How I Use Notebooking for History
Richele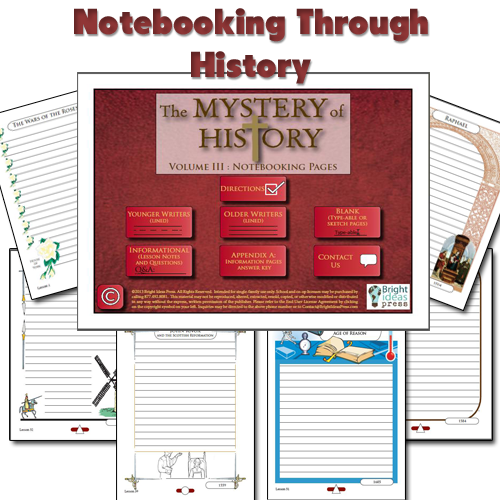 What is Notebooking?
Notebooking is essentially a method of journaling your way through a subject.  A student records what he learned and his reflections on the subject.  Notebooking may also include copywork, timelines, drawings, and maps.  You may want to think of it like a scrapbook.  How scrapbook-like it becomes will reflect the student's personality.  Once the student learns the basics, you will enjoy seeing how he develops his notebook.
How I Use Notebooks for History
Notebooking is a new addition to my homeschool.  Before I began notebooking, my children already did daily narration and copywork.  Now those two things get added to our notebooks.
I gave each of my kids a binder to house their notebooking journey.  I even gave my Kindergartner a binder for her to begin on her own level. Each history lesson is recorded in the binder through a drawing, reflection, vocabulary list, copywork, narration, or map work.  I assign certain tasks such as copywork, but I allow for each child to express his or her creativity within their notebooking pages.  I feel this allows each child to learn according to his learning style.
My daughter's pages look "scrapbooky" as they are filled with maps,  drawings, color, and stickers.  My kindergartener's notebook contains coloring pages, drawings, maps, and simple vocabulary words.  If you were to take a glance through the pages of my son's notebook you would find it to be mostly black and white with notebooking pages made from templates, maps, and timelines.
The addition of notebooking has taken history to a new level.  My children learned to love history as much as I do.  History is not just facts written in a book but a recording of life.  As they learn, they are recording their own reflections and impressions of the past.  Their retention for facts and feel for time periods impresses even me.  Keep in mind, this was a process over time.  The introduction of notebooking did not go over well with my teenage son who thought writing narration was more than he could do in a day.  My daughter saw it as another art project.
While I allow for creativity, the purpose must always be clear.  I had to draw my son out and restrain my daughter to achieve notebooking success.  The children enjoy it because it is time for them to express what they learned without pressure.  I found this method far more effective for my kids than regular quizzes and tests.
What You Need for Notebooking
To begin notebooking you simply need paper, a writing utensil, and something to house your pages such as a binder.  You can also use a composition book to get started.  Don't be intimidated by Pinterest-worthy notebook pages and a supply list as long as your arm.  Begin slowly and allow your child to create this experience on his own terms.
Notebooking templates may be a good staple to have on hand.  For history we are currently using The Mystery of History notebooking pages (found here: MOH1, MOH2, MOH3). Notebooking templates are pages provided with lines for writing and decorated according to a particular theme.  The kids love to see what the next page will look like.
I have always said that living is learning and learning is living.  To me, notebooking through a subject is doing just that.  It allows for the student to truly learn and experience material.  I witnessed my children gain retention and understanding through the process.  If you are looking to add a new dimension to your homeschool then you may want to give notebooking a try.