Maybe You Shouldn't Homeschool
Lisa B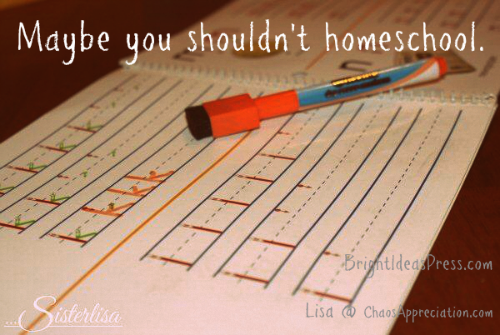 Raise your hand if you have ever said, "I homeschool," and someone replied with, "I could never do that."
Did you all raise your hand?
My initial response is usually to say "Sure you could" and then share how it's not so big and scary once you get started.
I'm a firm believer that anyone could homeschool. If given the means, they could get the job done.
I'm also a firm believer that there are some families that could but probably should not homeschool.
Here is a list of questions one should reflect upon when contemplating a homeschooling lifestyle.
I'm not going to tell you that X number of yeses mean you shouldn't do it, because that's ridiculous. Everyone is different. If I went down this list, I probably shouldn't homeschool, yet I do. And I do it successfully. Everyone responds to life's circumstances differently.
Ask yourself. Reflect on your answers. Pray. Decide.
Finances
Will someone need to give up a job?
Will you want or need an out-of-the-box system which is usually more costly, or are you prepared to seek out other alternatives that might be more budget friendly but require more time to plan?
Will you be driving to co-ops?
Will you want to supplement with sports, art, or music lessons?
Do you want to use technology in your school and if so, what will that cost to maintain?
If someone gives up a job, will your insurance coverage change?
Are you prepared to provide food for all the daily meals?
Time
The biggest sacrifice to be made regarding homeschooling, is in time. Time to plan. Time to teach. Time to drive to extra curricular lessons.
We don't educate every minute of every day, but education can happen in any minute of any day. (Tweet this!)
That "me time" you were looking for might require hiring a mommy's helper or trading with another homeschool mom. In winter months, because we are all cooped up together for so long, I find myself jealous of my neighbor with her hours of quiet time to clean house and do meal planning while her kids are in school.
What would you have to change to make time for school?
How would you build quiet time into your schedule?
Who can you call on when you need a break?
Homeschoolers don't have to be up early to catch the bus. Will you maintain an early schedule or let your kids sleep in?
If you homeschool and work (which can be done), when would you plan for school work? And how would you balance relaxing family time with learning times?
Personality
I can only speak from the perspective of an introvert with not-so-introverted children, but homeschooling as an introvert is hard. I need alone time to decompress and refuel. Homeschooling, at least at our house,  leaves me with almost no alone time. There is always someone talking to me or near me. Some days are really tough.
Our extroverts want to go, see, play, do, and meet. Co-ops and activity clubs are great for facilitating socialization and providing a stimulating environment for learning. Signing up our kids and getting them to their classes stretches my comfort zone. It is a difficult step that I have chosen to take for the benefit of my children who thrive off the interactions.
Personalities are important to consider when evaluating the option of homeschooling.  It's more than just a question of "can we get along with each other." Homeschooling affords parents the opportunity to work with their children's personalities, often requiring a parent to work against their own.
Does your child crave a lot of interaction?
Does your child thrive working independently with solo projects?
How will you feel about spending extended parts of your day out and about, at co-ops, the library, or on field trips with other families?
Your Family
No one knows your child the way you know your child. No one knows your family, your finances, your challenges, and your circumstances the way you know them.
Only you can decide if homeschooling is the right choice for you and your family. There are so many resources (free and paid) and so many places to find support that anyone who wanted to try homeschooling could try it.
For example, Bright Ideas Press is hosting a discussion about making the choice to homeschool via a G+ hangout (on Tuesday, April 8, 2014 at 3 p.m. ET). Watch the recording below.
The question of should you homeschool is something only you can answer. There are sacrifices that must be made by any parent in order to educate their children, whether they choose public, private or home education.
Careful evaluation of your time and your abilities (financial, physical and emotional) is the only way to confidently determine if homeschooling is the best choice for your family.