Transitioning the Non-Academic Student into College
Jasmine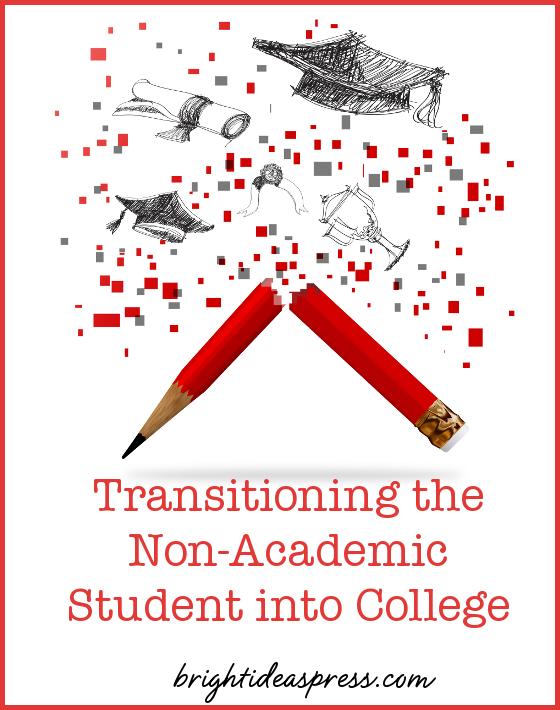 Transitioning from high school to college is a big step for most students, but it can be especially challenging for non-academic students or students that have learning challenges. My sixteen year old son started dual credit classes at our local junior college last fall. This year has definitely been challenging for him, but overall I think it has been extremely rewarding.
My son was the little boy that loved to play with LEGOs, but hated to color. He didn't like gluing because it made his hands sticky, and he always wore shorts no matter what the weather. He didn't learn to read until after he was 10, but would sit for hours listening to audio books and Speed Gibson. Now that he is older, he excels in math, is a computer genius, is learning Japanese, but still has atrocious handwriting and spelling.
His dream is to become a computer programmer.
Thankfully, many of the classes he will be required to take are math related, an area where he is the strongest. But what about all the other classes? He has to make it through English, history, and science —all classes that require a high level of reading and writing.
I want to share what I have done over the last six months to help ease my son into college and chase his dream!
College Options
As we contemplated having our son go to college, some of the options that we decided on were dual credit classes, online classes, going to school part-time, and attending a junior college for the first few years.
Dual Credit
We are fortunate to have a junior college nearby that offers dual credit enrollment for high school students. My son has taken 2 classes each semester this school year. The dual credit program has allowed him to slowly dip his toes into the college waters while still living at home and receiving academic help from mom.
Another benefit of the dual credit program, is that it allows the student to spread out their coursework over a longer period of time and still graduate at a young age. By the time my son finishes high school, he will have finished his first year of college. He will then be able to take a lighter load of college work and still finish within four years.
Online Classes
Most colleges and universities offer a large portion of classes online. The advantage of online classes is that mom (or dad) has the opportunity to view the material and act as a tutor throughout the class. This can be very time consuming, but may be a great option for classes that the student needs extra help in.
My son took a history class online during his first semester. He had to write three papers for that class and it was helpful for me to be able to look online and see what the requirements for the papers were. I was able to walk him through the steps needed to complete his papers.
The downside to having him take an online class is that he is very much an auditory learner. After finishing the class, we both felt like it would have been more beneficial for him to attend on-campus classes in order to listen to the lectures and be able to ask questions right away.
Part-time Student
Even if my son hadn't started as a dual credit student, I think starting out as a part-time student helps non-academic students ease their way into a new school environment without becoming overwhelmed. Taking too many classes too quickly doesn't always give them the chance they need to adapt to new ways of teaching and new expectations.
Community College
We have been blessed to live near a community college that caters to younger students. The class sizes are small and the teachers take time to interact with the students. If the students have questions, the teachers are accessible and willing to help the students.
Practical Advice
Start with Easier Classes
Starting with easier classes or ones the student excels in helps to build confidence. It allows the student to become comfortable with new teaching styles, relieves fears they may have about college, and helps them learn what is expected of them—all without being completely overwhelmed by the academic aspect of college.
Help Create a Schedule
One of the things I had to help my son with was creating a schedule. Because he only attends class two days a week, he had to learn to spread out his reading and homework assignments over the week so that he didn't get behind. This is especially important for long-term assignments such as papers or projects that aren't due until several weeks out. What may seem like a long time to a sixteen-year-old sneaks up faster than they realize!
I also found that I needed to monitor his progress the first semester. Sometimes he needed reminding that assignments were coming up and he had better get the work done. Now that he has one semester under his belt, I have found that he has done much better this semester about making sure he is on top of his work.
Fill in the Gaps
After my son's first semester, it was apparent that he needed to work on his writing skills. For years he has struggled with writing and has resisted any assignment that included writing. However, now that he realizes the importance of writing (especially if he wants to make good grades), he is much more motivated to hone his writing skills.
I have began working with him more intensely on writing, even using his writing assignments from college to walk him through the writing process and help him craft better essays. Now that the motivation is there, he has improved by leaps and bounds!
Encourage, Encourage, Encourage!
The last piece of advice I would offer is to encourage your student everyday in their work. What they are attempting to do does not come easy for them, and it is easy to lose heart when chasing their dreams. The word encourage literally means to impart courage. Give your student the courage they need to face each new challenge that comes their way. Half the battle is won when your student has the courage they need to face the fight!
And not to brag, but to give Glory to God—my son finished his first semester with Bs in both biology and history. Not bad for a little boy who never liked schoolwork!