A Quick and Easy Lesson in Personal Finance From a Mean Mom
Lisa B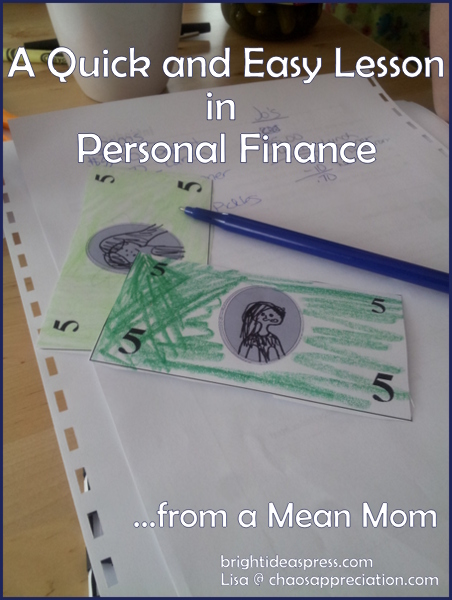 Two weeks ago, I was completely fed up with my kids. I know the fuss was over a mere $5, but sometimes $5 needs to be a big deal. To a lot of families I know, $5 is a big deal; and it's a big deal all the time, not just on the day before pay day.
We are so blessed that rarely is five bucks something to fight about, but I did not want my children taking even one dollar for granted. All these blessings can be gone in a heartbeat.
I needed a quick and dirty way to get my point across to the girls, and it needed not to involve actual cash since it was a couple days before pay day, and I was terribly short on the green stuff.
Here's a little spoiler: it's all fun and games until the pickles run out and Minecraft is threatened.
By the time this little lesson in personal finance was over, I had been called mean, super-mean, uber-mean, and a meany-pants. Some other enjoyable remarks included:
"You want us to starve, don't you?"
"This is SO not fun."
"This is NOT what real life is like. You don't know what REAL life is like Mom!"
I'm still laughing. Those were the most entertaining two days we've had this winter.
Teaching Personal Finance Step One
Make your money. 
Print it out, color it, cut it, or make it with construction paper. We made $8.45. Not sure why it was that much, but that's how much we ended up with when they became bored with coloring.
Teaching Personal Finance Step Two
Create a bank register.
I only printed this because I didn't want to make my own money for processing change. I printed a register for each child on which they could put money on deposit and spend money directly from their account. Next time, I'll include a lesson in check writing. Get an easy printable register from moneyinstructor.com here.
Teaching Personal Finance Step Three
Price the important stuff.
Send the unsuspecting kids off to list their favorite things: favorite foods, drinks, games, and hobbies. Then momma gets to price them.
I didn't put TV on the list, intentionally. When Dad gets home, he enjoys some TV downtime. I didn't want to confuse the kids, nor did I want to keep track of who was watching TV on their own dime and who was mooching off of Dad's TV time. We don't watch that much television, so I left it off the list. It wasn't a privilege they would have been willing to pay for anyway.
I did include lunch and dinner. They weren't cheap either. Together, they cost each child $4.00. Yes, they had the choice not to pay and not to eat.
Yes, our list included a ton of junk food. In real life, they will have the option to make poor choices. It was risky, but it worked out for me in the end.
Water was free.
Quantities were limited, and everything was first paid first served.
Teaching Personal Finance Step Four
Learn to pay your own way.
For the first day, I had the kids pay the bank in advance for lunch and dinner so they didn't go hungry because of poor planning. I explained the rest of the rules and then bit my tongue when the 12-year-old bought 20 Oreo cookies and an entire jar of pickles. Before bed, they deposited all of their remaining funds.
The next morning they received their daily pay of $8.45. This was the beginning of the "mean mom" remarks. Someone didn't think it was fair that her sister had over $10. This is where we discussed saving money for another day.
By midday of day two, our nine-year-old was having a blast and our twelve-year-old was furious. Side work was offered in order to earn extra funds. Warnings, not available in real life, were given when funds were getting low. Finding yourself surrounded by people enjoying fresh cupcakes, with no money to purchase your own cupcake, does things to people. Pickles are not as comforting as cupcakes.
What My Kids Learned
You don't get paid early just because you ran out of money; learn to plan ahead.
Just because you can buy something, doesn't mean you should. Oreos for supper sound like a good idea until it ends up actually being your supper.
If you want the job to pay well, you best do the job well. It never hurts to go the extra mile. Sometimes it pays off (in cupcakes).
Every nickle matters, and it takes twenty of them to make a dollar.
Free time is more enjoyable when you know it's limited. Cherish the moment.
What Momma Learned
If you give your tween an opportunity to buy all of your favorite cookies, she will.
She will also enjoy eating them in front of you.
So what do you think of my financial planning lesson? Would you attempt something like this to teach your children?