Can Christian Curriculum Effectively Teach Science?
Richele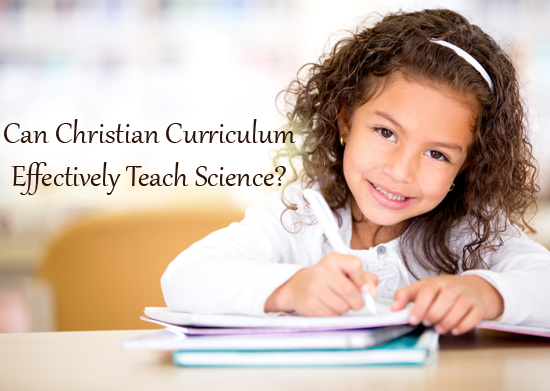 My announcement that I was going to homeschool was met with blank stares and questions barely able to be formed by those concerned for my children's education.  Perhaps it was concern for my mental health, it was hard to tell which.  Many wondered how I would handle it, if I was qualified, and what type of curriculum I would be use.  I expected all of these concerns to surface.  What I was not expecting was the questions about teaching my children from a Christian based curriculum.
I chose a Christian based curriculum, not surprisingly,  because I'm a Christian raising children in a Christian environment.  While most people understood that, the concerns always came down to one subject in particular — science. Many, including Christians, didn't put a lot of confidence in a science curriculum based in Christianity.  Some felt it was lacking in depth while others expressed their Christian based science curriculum read more like a devotional than science.  I was accused of sheltering by a scientist friend of mine.  Not being a science-minded person myself, I tried to see this side of things but maintained I could find a quality curriculum for my children.
The Search for Christian Based Science Curriculum
As I began my search, I compared and contrasted the biggest names in curriculum from both the secular and Christian viewpoint.  It became clear to me that I wanted to teach my children from the Christian worldview, so I had to either find something that was neutral on things like evolution or tended toward a Christian worldview.
Admittingly, I did find some of the Christian based science curriculum to be lacking.  However, I can't say it lacked any more than some secular based curriculum.  In all things there are good and bad.  I decided to make a list of what I was looking for and try to match up all my findings to come up with a good fit.
What I require in a science curriculum:
clearly laid out material
in-depth study
hands-on
christian worldview
Simple list.  Simple search.  Simple when you know where to look. Thankfully, I remembered the same publisher of my history curriculum also had a science curriculum.
Christian Kids Explore Science Curriculum Scores on All Levels
Christian Kids Explore Science series explores physics, earth and space science, biology, chemistry, and now creation science. We have used the earth and space science and the chemistry.  Each study allowed me to check off all items on my list above.  The curriculum simply supplies me with everything I need to confidently teach my children science in a format they will enjoy and that I can easily implement.  It makes me look like a rock star science teacher.
So, if you take nothing else away from this take that —rock star science teacher.  My eight year old thinks I really know my stuff which is only scary when she asks questions without my teacher's manual around.  Since the curriculum spans from third to eighth grade, I can keep everyone on the same page while making my homeschool planning easier.  I will also let you in on one of my favorite things— the supplies needed are things you already have or are very easy to obtain.
So, look like a rock star and let your Christian kids explore science confidently with Christian Kids Explore.
5 Free Biology Lessons
Looking to add some fun, hands-on activities to your homeschool?
Subscribe and receive 5 free lessons from Christian Kids Explore Biology about Plants in God's World.