10 Fun Ways to Hone Your Geography Skills
Lisa B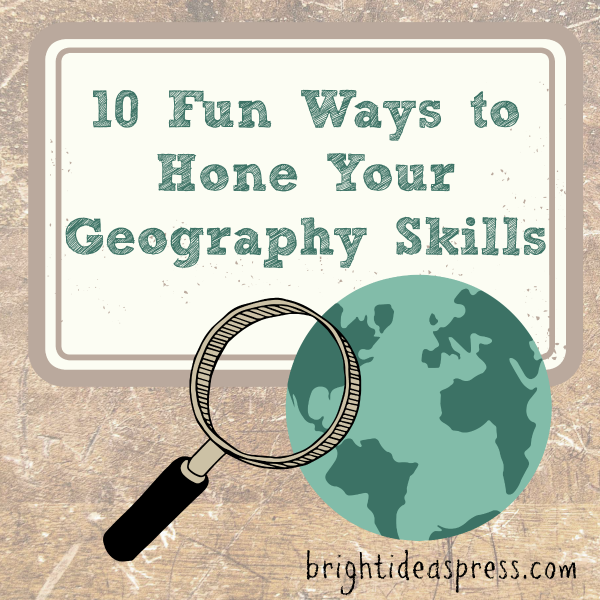 I am severely geographically challenged.
Wait.
I'm not in a challenging location geographically, which is probably what that sentence implies. Let me try again.
I am horrible at geography. All geography. Not just world geography, I'm awful at even United States geography.
To be honest, I'm not even good at Virginia geography, and I live here.
The only reason I know where Montana is located is because I have a friend in Montana. I was wishing I had a friend in Wisconsin the other day when I spent ten minutes looking for Wisconsin on our USA map puzzle only to discover I was trying to put it in the wrong half of the country.
In order for me to retain information, I need to relate it to something interesting or of a perceived value. For example, I know where Chik-fil-A is because they are delicious and I get hungry. I know where South Carolina is because that's where I find my Dad. I know where Alabama is because my husband spent hours laughing at me for not knowing. I know where Sochi is because of the Olympics.
To help my kids, and myself, hone our geography skills, I compiled a list of fun things to add to our lessons besides playing board games like Destination USA and using apps like Stack the States and Stack the Countries.
Add these fun pinpoints to your maps (wall, globe, printable with WonderMaps), or add these activities to your afternoon!
10 FUN Ways to Hone Your Geography Skills
1. Where is your pet (animal breed) from?
2. Map your dinner. Where did that dish, spice, or veggie originally come from? What country exports it today?
3. Where is your favorite author from?
4. How many places can you find on the map that start with your initial?
5. Create a playlist full of songs native to the country of your choice.
6. Research the invention of something that makes your life easier and find out where it was invented.
7. Interview a friend or family member about a trip they took and map out where they went.
8. Start a binder of all the places you want to visit, get brochures, print info from online travel sites.
9. Research traditional attire from a country of your choice. Be a fashion designer and try to create a new outfit in that cultural style.
10. Look on a world map and choose a place to create a new land. Use graph paper to map it out. Name it, and give it some demographics. Share details about who it's neighboring countries are and why you chose that place.
What do you do to reinforce your geography lessons?