Homeschool Sick Days
Richele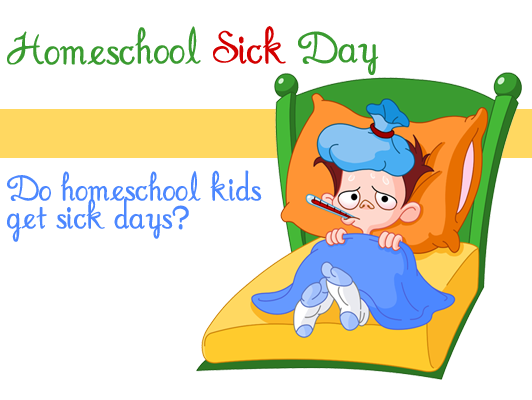 Do Homeschool Kids Get Sick Days?
Growing up, I went to traditional school.  When I got the chicken pox, I stayed home from school for two weeks.  After the first four days, my mom picked up school work so I wouldn't get too far behind.  I felt well enough to do the work but still could not attend for fear of spreading the chicken pox to other students.
In a homeschool environment, germs are not so easily quarantined from the other students.  The couch is just as much a part of the classroom as it is the sick ward.   A day off is determined by the child's ability to learn as opposed to the threat of germs spreading.  Why waste days off on being sick when you can take sunny days off?  On the other hand, you don't need to play catch up when homeschool runs according to your schedule.  Why not allow the child to be fully rested and strong before assigning more work?
So what's a homeschool mom to do?
Making the Most of Sick Days
In my home, children take the entire day off when they have a fever, have the chills, have a tummy bug, or are completely fatigued. That day off gives them time to recover.   A child who has a cold or who can otherwise function is given the same workload as normal.  I just play it by ear and allow for breaks or a half day of school.  Doing a page of math while sneezing is worth it to be able to take off later on a sunny day when we all feel great. However, if my child is sick enough not to pick up a pencil but also bored enough to want to do something, then passive learning is the answer.
Effective and Passive Learning
The flu ran through my house just this past week.  Not only were the kids sick but so was their faithful teacher.  I can tell you that I didn't want to sit on the couch all day long, but I didn't want to formally teach either.  My motto has always been "Living is learning, and learning is living." A visit from the stomach bug is one of those times when this motto comes alive.
What We Did
We watched documentaries out of pure interest in the subject.  We also discussed them because being talkative comes naturally.
We studied our bible verse for the day.  Thank you, Illuminations for creating a plan so easy that all I had to do was flip a page in my binder.
We studied a little about the Middle Ages and the plague. It was my son's morbid request since we were all sick. But you have to grab that interest while it sparks!  It is one of my son's favorite time periods, and it served as a bit of review since we are currently in volume 2 of The History of Mystery.
We played a few board games.
We read from our read aloud book and discussed it.  Again thank you, Illuminations for making that so easy and enjoyable.
What We Didn't Do
Formal studies of any kind.
Copywork
Worry that a few days off would irrevocably ruin this year's homeschool schedule.
When daddy walked through the door, he asked if we managed to get any school done.  My daughter said, "No, we didn't do school, but we had fun." She then explained to him how germs spread and the devastation of the plague.   Mission accomplished.