Preparing to Parent College Kids
Suzanne Broadhurst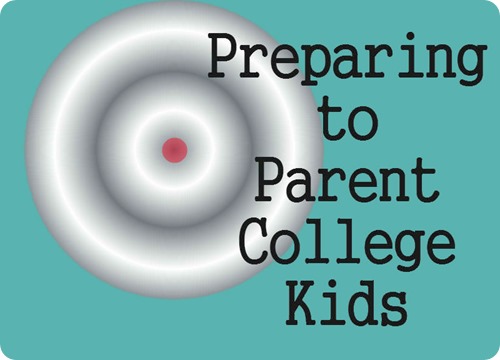 What should you do with the parental lessons learned while the children are young?  Hang on to them.  You'll need them again because parenting college kids is a lot like parenting little kids.  The difference?  The mess, the vocabulary, and the subject matter.
The Mess
When my kids were little, I could blame the mess on their activities.  Building blocks, craft drippings, hundreds of small plastic animals – one of them so small her name was Speck – and the occasional cracker box leftovers littered the living room, but it was their mess not mine.
They were having fun, and I defended them.  Well, I defended them with the cringe most moms experience when the front door is opened to an unexpected knock.
Now that the kiddos are in college, applying the life lessons about keeping their toys in their own rooms, the mess is mine.
Usually, it's bits of yarn ends snipped from a project, balls of yarn in-project, or skeins of yarn waiting for a hook to make it loopy.  Yes, the mess is most likely mine.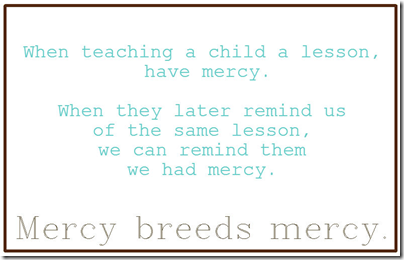 The Vocabulary
Remember the early days when our children discovered their vocal chords made sounds and those sounds communicated thought? Remember when they were trying desperately to communicate, but the words were hard to understand? If you are in the Toddler Mama stage, tuck that linguistic patience into your apron. You will need it again in a few years.
OTYA's Style
The verbal style of Older Teens through Young Adults should be a language of its own.  We could call it OTYA. Before college, OTYA words all ran together like a 33 record played at 45.
If you get the musical reference, you may already have young adults in your home.  Welcome to my world!
Once they have a semester or two of college under their belt, OTYA speakers come home using vocabulary that make ears burn.
No, not "those words" — although it might happen.
They come home using words like paratext, metafiction, fantasy theory, hybrid textuality. misogyny, and misandry. We may need to ask them several times, "What are you saying?  I don't understand that word, that phrase, that sentence."
Just like when they were little, ask until you understand.
The Subject Matter
Remember having to teach the children about heavy subjects like slavery, abortion, and genocide?  Or maybe you aren't there yet.  In that case, know that it's coming.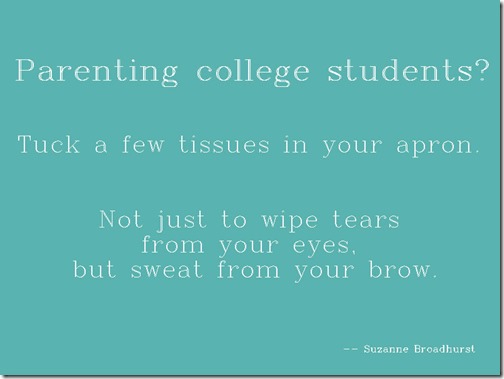 College kids who have developed real relationships with their parents will keep it real.  And we want real.  We want them coming home telling us all the uncomfortable stuff.
They need us to listen and to share the burden of the fallen state of the world.
College students need us to care for them, and they need us to care with them.

Just like when they were little.
Continuing Education
Parenting college kids is a lesson in continuing education, for the whole family.
If you influence the learning curve now by building relational ties, rather than coming undone all at once, our apron strings will loosen gently and naturally. 
Just the way it should be.