Spotlight on Suzanne Broadhurst
Jenn Hamrick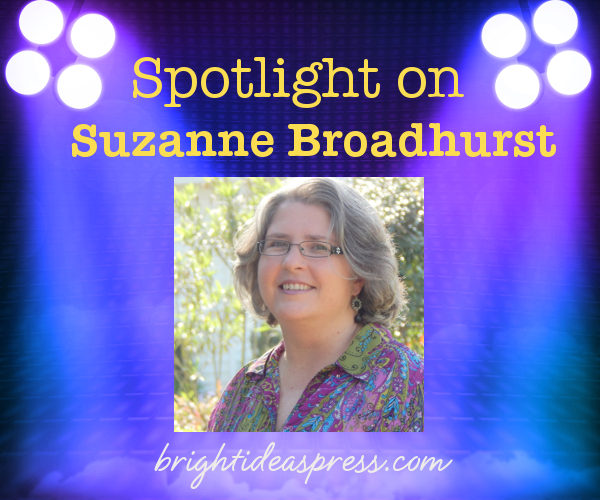 This month our blog contributors are taking a well-deserved break from writing. So I am taking the opportunity to shine the spotlight on some of these amazing homeschool moms. The Bright Ideas Press team appreciates them, and we know that you do too!
Full of Heart and With Years of Experience
Suzanne is the single most prolific writer on the BIP blog! She has written 53 posts at the time of this article! You can find all of Suzanne's posts here or check out my recommendations of individual posts below. Suzanne is a veteran homeschool mom; her children are in college. Her posts are always full of feeling, the wisdom that comes from perspective, and often quirky humor. Suzanne's favorite social media spot is Facebook. Find her there.
If you have time to read just three of Suzanne posts, I recommend four favorites:
About Suzanne Broadhurst
Besides blogging at her home site Suzanne Broadhurst. com, you can find her
I made Suzanne choose two of her favorite Pinterest boards, and as hard as that was to decide, she listed these two with some notes about each one.
I love the opportunity to use my interests – children, crafts, crocheting, shopping, clearance sales – to share the message of hope and salvation in Jesus Christ.  And I can involve my children!
I don't travel much any more, but I still love learning about other places in the world.  Cultures are created and recreated based on their geography.
Q&A With Suzanne Broadhurst
Q: If you are having a bad homeschool day, what do you do to solve it or prevent it the next day?
As a completed homeschooler – my children are now in college – I look back on this question and wonder how we made it through so many days!

Hmmm, what did I do on a bad day?  I asked the children to take a break in their own rooms, gave them freedom to do as they pleased for an hour, while I went to my room and cried out in prayer.  I mean, prayed and cried.  By the time the Lord had calmed my heart, the children were ready for the next step in the day.

It's ok to be vulnerable with our children; they know we aren't perfect no matter how hard we try to pretend we are.  And aren't we pretending for their sakes?
Q: What is your favorite BIP product?
I love WonderMaps and wish I had it when my kids were younger because it is so flexible, so easy to use, and I don't have to run to the copy shop or hunt online for just the right map.  I have it at my fingertips!
Q: If you could go back in time and talk to yourself in the past, 5 years ago, what advice would you give in terms of parenting and homeschooling?
Five years ago … my youngest would have been beginning high school level work, and my oldest would be nearing its completion.

I would have said to myself:  Quit worrying about what everyone else is thinking about what you are doing, Suzanne.  You know your children, you know yourself.  Take comfort in the strength of your relationship with each other.

And keep saying "no" to everything you don't really want to be doing.  When you say "yes" because you feel like you "should" you will end up feeling worse in the long run.
More Posts from
Here are more posts from Suzanne that I don't want you to miss.