Preparing Your Heart For A New School Year
Lisa Rupertus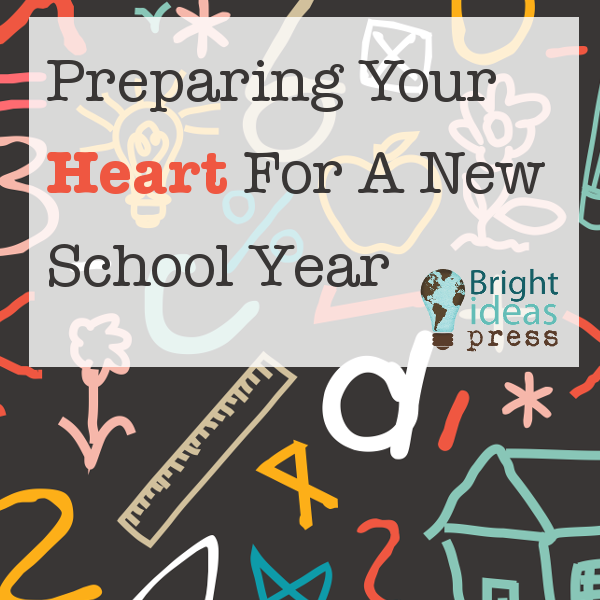 Homeschooling is heart work.  Most of us embarked on this journey to fulfill specific needs for our families.  Whether you are following God's will or because you want a customized education for your children, your heart is involved every step of the way.  So how do we prepare our hearts for a new school year?
Remind Yourself Why You Started On This Adventure
Taking the time to remind yourself the reasons you wanted to homeschool in the first place will help refresh you for the upcoming year.  If you don't remember,  make a new list.  Is it financial?  Educational?  Was it to spend more time together as a family?  Was it God's calling?  Did you dream of being a homeschooling family before you had children?
It is very important to take the time to reflect on these reasons.  Remember the passion you had that first year.  This will bring about excitement for the new year!
Make A List Of The Successes And Failures
Looking back on the past year will give you insight to the coming year.  Taking the time to evaluate what worked and what didn't will help you to move forward.  Did you struggle with routine?  Were afternoons your child's best time for learning?  Get a plan of action for the upcoming year based on the previous year.
Take Time To Plan
This is one of the things that makes my life the least stressful and keeps my heart focused.  Simply having our curriculum chosen and purchased is a big help.  The next thing I do is print everything I can and organize it all into weekly folders.  Knowing I don't have to stress on Sundays to figure out what we will do on Monday is a huge relief.  I take two days in August to set up the whole year.  I think of a quote my former Pastor's wife would say often: Without a plan, you are planning to fail.
Get On Your Knees
I know this one is simple, and you might be thinking, "I do that all the time."  However I want to challenge you to pray specifically, asking God to prepare your heart for the upcoming year.  Ask him to give you wisdom for your children's needs.  Ask him for help with the items on your failures list. Make sure you set aside special time for prayer before the school year begins.
Set Up a Support System
When your heart is heavy during the year (or before), you will need someone to talk to.  This is a tricky thing because everyone doesn't need to know your kid's struggles.  Your spouse should be on the short list of people you can turn to when you need to discuss things or work something out.  I also want to encourage you to have one or two good friends you can talk to.  It helps if you have a friend who has children older than yours because they've been through what you are going through.  Having a support system in place means you know where to go when you need advice or prayer.
Take a day of rest
Last year a fellow homeschooling mom and I went on a day trip to the beach without our children.  We sat in the sand and watched the ocean for a few hours.  We chatted about the new year and the previous year.  It was a day of rest for us.  We both recognized that once the new year started, there would be very little time for ourselves.  This was a great way to end the summer break and get our minds ready for the upcoming school year.  We both left our day feeling refreshed and prepared for the adventure of starting our new school year.
I hope you will set some time aside to prepare your heart for the upcoming year.  It is sure to boost the success of your homeschool by keeping your heart focused on what matters most.