3 Back-to-School Secrets Every Homeschool Mom Should Know
Sallie Borrink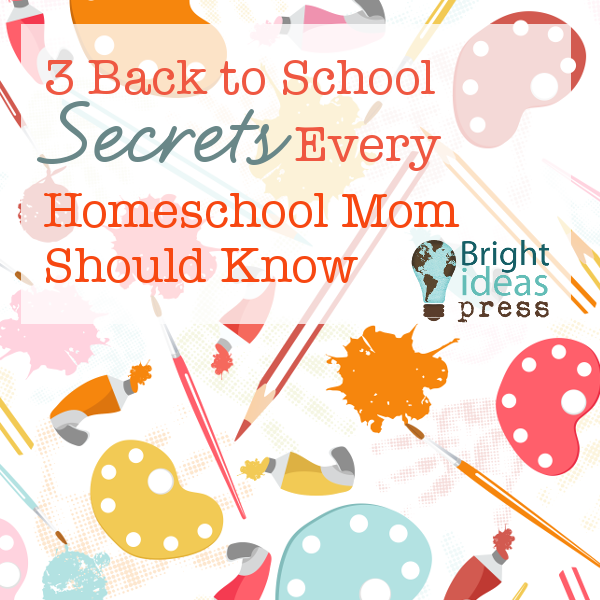 I love back to school time. There's something about the new supplies, crisp books, and the promise of a fresh start that draw me in every single year. First as a student, then as a teacher and now as a homeschooling mom.
But before we all get wrapped up in the intoxicating smell of new books and become giddy at the site of freshly sharpened pencils in a cup, may I share some secrets with you?
Secrets you will especially need to know if you are just starting out on this journey called homeschooling?
Here are three secrets you need to remember all year.
1. The relationship is more important than anything else.
Homeschooling our children is about more than just education. It's more than books and math problems. It's more than learning dates and conducting science experiments. It's about relationships.
If you reach a point during the year when things aren't going right, step back and examine the relationship not the curriculum.
We're quick to think if we hit a snag, there must be something wrong with the curriculum. And that might be. But if you are butting heads with a child, examine the relationship first.
And by examining the relationship I mean put yourself in your child's place and examine it from her perspective. It's so easy to think as the parent, "If she would just do what I'm asking her to do!" But in my experience when a child is pushing back, it is often about a breakdown in the relationship whether it is poor communication, unresolved issues, or lack of time together.
2. There are peaks and valleys to every school year.
Every school year has its high points and its low points. If you can anticipate them and not be surprised by them, you will be so far ahead of the game.
Almost all homeschoolers experience low points in November and mid-winter. Sickness will start making its rounds after the holidays. Cabin fever. Tiring of the routine.
In fact, the thought of wanting to quit will go through your mind at some point this year. You will ask yourself
if it is worth it
if you are doing a good job
if the choice to homeschool was a mistake
It's part of the natural ebb and flow of the school year. Classroom teachers feel it. Homeschool teachers feel it.
Know that the peaks and valleys will happen and they are normal. Look for ways to shake things up a bit during the valleys. Keep in mind the big picture of the entire year. You'll get through the low spots. And you'll discover new peaks when you least expect them!
3. Be prepared to adjust your academic plans.
Let's be honest. We can't do it all.
We won't get through everything we have planned.
Hope may spring eternal during back to school planning, but the reality of real life eventually catches up.
No curriculum as it is written is perfect for every family —not even the wonderful Bright Ideas Press curriculum so many of us enjoy with our families.
Part of what makes a great teacher great is her ability to adjust on the fly if a lesson goes bad or a unit needs to move in another direction.
As homeschool moms, we need to do the same thing and not see it as a failing if our plans aren't working.
Adjusting our plans isn't a weakness. It's a sign of being a mom who is reflective when it comes to understanding her child's needs, growth and quirks.
It's great to map out a general plan for the year. But be prepared to adjust your plans. As you progress through the year, you will learn many things about your child. Some of those things might necessitate making changes to your plans.
This makes you a good teacher for your child! This is the strength of homeschooling. We're not locked into a rigid curriculum. We have options to change and improve things. Don't be afraid to delete what you have planned and rewrite it with your new insights to guide you.
So as you finish sharpening those pencils and lining up the new books, keep in mind the three secrets that will help guide you through a more enjoyable homeschool year.