How Doctor Who Can Help You Homeschool
Suzanne Broadhurst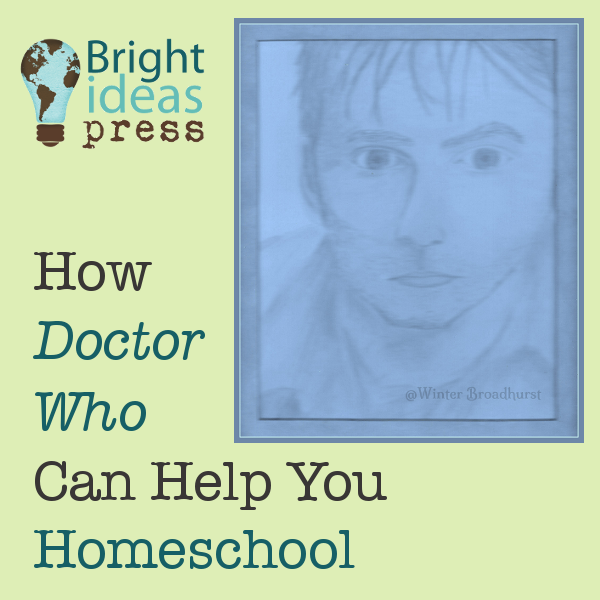 Dr. Who artwork is the original creation of  Winter Broadhurst.
Having children offers us the delightful opportunity to revisit our childhood heroes and share them with those who love us unconditionally. Unconditionally, as long as we keep the chicken nuggets coming, of course.  Or in some cases, more historically significant recipes like fish sticks and custard.
Dr. Who— and his colorful scarf— arrived in the small desert town where I finished high school back in the 80's.
When I heard that the Doctor was back on the air and rumored to be better than ever, I had to watch— to prove the younger generation wrong, of course.
How could one improve on the doctor of all Doctors, my very own Tom Baker? 
Move Over, Doctor, the Doctor is Here
Although it seemed like an anomaly in the space-time continuum, the new doctors get my thumbs-up, all reluctance dematerializing as quickly as my dematerialization circuits could process.
And here's what the new Doctors have taught me about life — at least the bits that pertain to homeschooling.
Sometimes …
We need a plan.
The plan goes awry because an alien invader strikes the respiratory and/or our digestive and/or attitudinal systems of the home planet's residents.
We need a back-up plan.
We need to run!
We need to appreciate the old ways, while finding delight in the new.
Some things are just silly.  And it's ok to be silly as long as everyone knows it's silly.
We need to find an empty planet, put our feet up, and listen to the sound of silence.
It's Always Best to …
Have a companion.
Carry our sonic screwdriver in whatever form it might take.
We Should Remember …
Not all companions are made alike, but each companion will meet a need in our lives, as we meet a need in theirs.
Mercy was made for the wrong doer as well as for the wronged.
All call boxes should be painted blue.  (Ok, that isn't really related to homeschooling.  Oh, wait, call it color theory and it's educational.)
History lessons can spring from pretty much anywhere, any time.
If one has a Tardis ringtone while shopping in a craft store, one may make an instant friend.  And they say homeschoolers aren't socialized!
Not everyone is a Bad Wolf, but they are out there.  Protect your children, but don't over-protect them.
And Most Importantly
As much as I love Doctor Who, when we really need help, a Time Lord in a blue police box won't really be there to rescue us even if we call to the stars.
But Jehovah God, the I AM of all space and time, the Great Physician of bodies, souls and spirits, will be.
And that's very reassuring in this wibbly wobbly, timey wimey world.