Send Your Flat Traveler to Europe with Maggie Hogan
Jenn Hamrick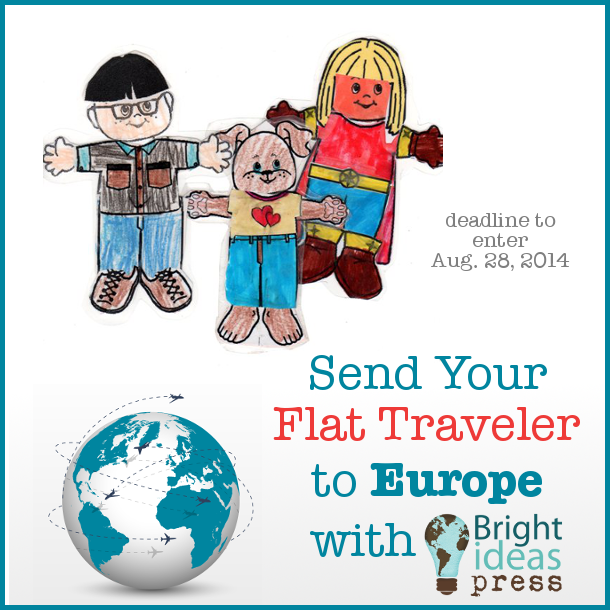 Bob and Maggie Hogan are heading to Europe in September! They will be visiting both France and England and want to take four flat travelers along for the field trip of a lifetime!
Wondering what a flat traveler is?
Read about flat travelers and how flat traveling is great for homeschool.
How to win
To win this flat traveler experience, complete the widget below. (Leaving a comment is a mandatory entry, but please fill out the widget as well.)
If you are chosen, you will mail your flat to Maggie Hogan before her travel date. In exchange, you will get a packet of goodies from Europe and your flat traveler will be featured in blog posts about what Maggie learned on her travels.
Join the fun and share the image on Pinterest or repin this pin so others can enter to win.
Drawing ends Aug. 28, 2014 at 1:00 p.m. Eastern Time. At that time, winners will be notified and given an address to mail the flats for the first leg of their exciting journey.
The Fine Print
Entry in this contest gives BIP permission to add you to our newsletter list. You may unsubscribe at any time.
The 4 randomly selected winners must mail a flat traveler to Maggie Hogan in Florida, USA so it reaches her by Sept. 4, 2014. If the flat does not reach Maggie in time for her trip, it will miss the flight and not be able to participate in this promotion.
Participation in this contest means you give BIP rights to publish photos of your flat traveler on the BIP site, blog, and in promotional materials.