Choosing Homeschool History Read-Alouds for Young Learners
Lara Molettiere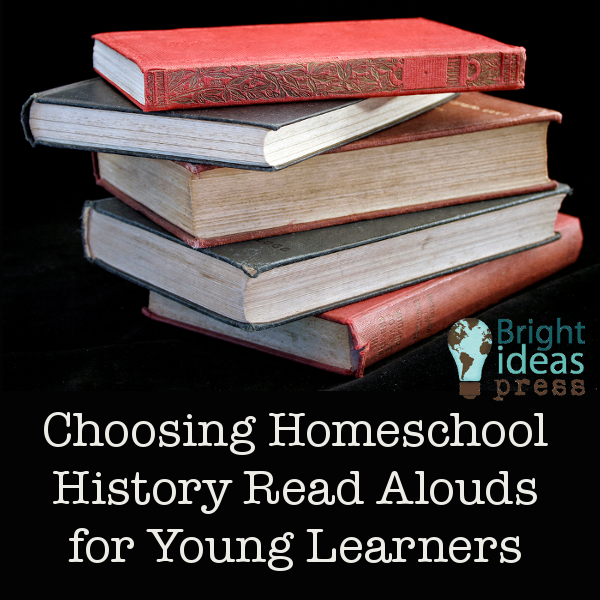 "If you don't know history, then you don't know anything. You are a leaf that doesn't know it is part of a tree."  ~ Michael Crichton
Teaching History to Young Learners
Teaching history is important because history gives us a foundation. It teaches us roots, religions, human nature, creation, exploration, destruction, and the importance of learning from the past in order to make the present and future better. Lighting a fire for historical knowledge in young learners is a wonderful way to begin your homeschooling journey.
In addition to finding a fun and engaging history curriculum like The Mystery of History, choosing  supplemental read alouds and books for strewing (strategically laying things around) is an important but easy way to continue to encourage a love of history in your children.
Tips for Choosing Historical Read Alouds for Home School
With young learners, engaging content and pictures are very important. Here are a few criteria that work well for our homeschool:
Find books with wonderful illustrations, but try to look for a style your child enjoys. At one point, only cartoon-type pictures intrigued my oldest boy, but now that we are entering kindergarten age, he loves pencil and watercolor illustrations and anything that is realistic-but-funny. Work with what appeals to your child as much as possible when they are young.
Rhyming books are a delight for many age ranges. When you can find a factual history book written in rhyme for younger learners, you've found a treasure.
Follow your child's interest when borrowing or purchasing books. If your six-year-old loves airplanes, look for books on flight, on the Wright Brothers, on Da Vinci, and the mechanics of birds. Even if the written content is too advanced, becoming familiar with the general history and the pictures will help put in place the pegs for future in-depth history study.
Ask fellow homeschool mothers for recommendations of books they have found helpful and fun. There are too many wonderful books to find them all on your own. Your librarian is also a wonderful resource!
Living history books like Little House on the Prairie that don't contain pictures but have wonderful content make great read alouds for quiet play time. Try reading these in 10-15 minute segments to your younger learners.
When you find a book that your child loves, try to incorporate an activity that relates directly to the book. Hands-on learning is a great way to help solidify a time period for your child. Try The Mystery of History Volume II Cookbook for some historical kitchen fun.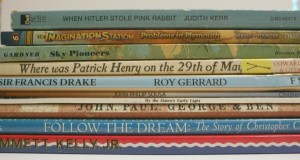 Here are a few of the read-aloud treasures we have for this year to use alongside The Mystery of History Volume IV:
Top Photo Credit: ~Brenda-Starr~ via Compfight cc
Homeschool moms are busy
Bright Ideas gets that. And that's why we promise to publish Christian-oriented curriculum that will fit into your hectic lives, curriculum that is both affordable and easy-to-use with children of different ages at the same time. Curriculum that busy Moms love! The team at Bright Ideas Press prays that our products and resources will not only help to simplify your life, but also inspire, encourage, and enable you as parents to effectively educate your children.

Subscribe to receive homeschool support articles, tips, and news and coupons from Bright Ideas Press.