Hope for a New School Year
Ticia Messing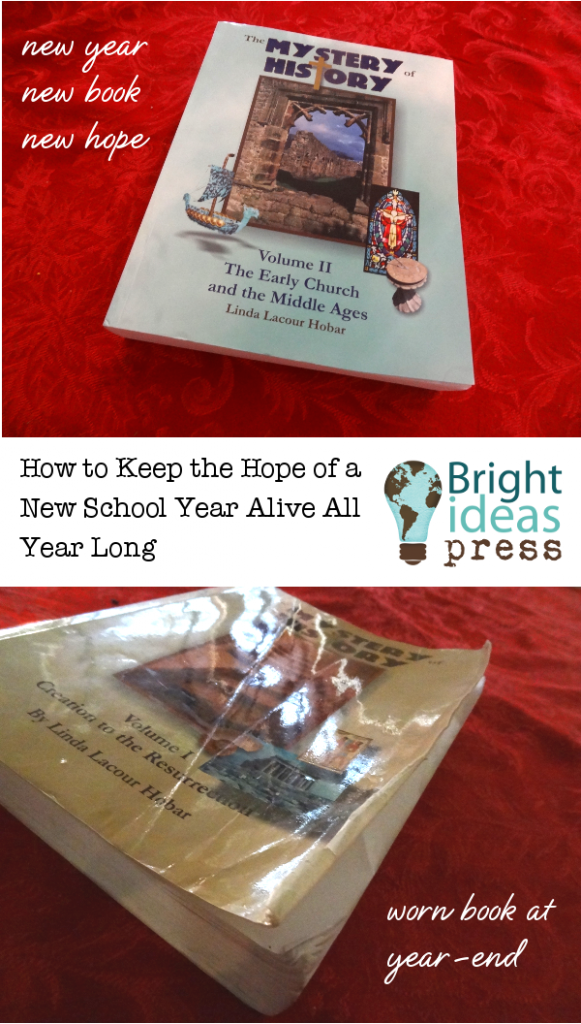 See that shiny new book?  This is our first year going through The Mystery of History vol. II (affiliate link), and with a new year comes hope.
Last year we ended our school year in July not because we school year-round but because we had too many things come up and lost time.  By the time we ended school, our hope was gone, and we were tired — the type of bone-weary tiredness that drags you down.
A New Year, a New Hope
There's something hopeful about a new school year and the crisp, new books on the shelf.  It's a new start when we aren't behind in anything.  We haven't given up on any subjects yet.  Our school area is clean and organized.  The kids still think school work is exciting and new.
But then life changes, and we aren't always sure why.
How to keep the hope
I've been thinking through how to keep the hope as you're going through the school year.
Factor in time to catch up. Recognize things will go wrong.  Someone will get sick; the plumbing will leak.  If you're using Illuminations,  those catch-up weeks are factored into the schedule for you.
Schedule time for chores.  I forget to do this all week until Friday comes along. Then I panic, throw out our school plans, and turn into Cinderella's step-mother, forcing my kids to clean and scrub all day long.  But there's no happy singing in my house.
Schedule in fun hands on activities.  If you don't write down fun activities, you will not complete them.  My family's schedule works best when I write out a daily to do list for the kids.  There's not a time to complete the activities, but we always include play in our to do list.  It gives my silly kids hope.
Schedule in rest.  It's very tempting to cram in as many great activities as we can, starting out.  I guarantee you will burn out if you do.  For us the best plan is to make Friday a very light homeschool day, filled with games and hands-on activities.  It makes our day calmer.
Most importantly take time to pray and spend time with God.  The times I kept God in the correct place, at the center of my life, I maintained peace and hope even when life got hustled and crazy.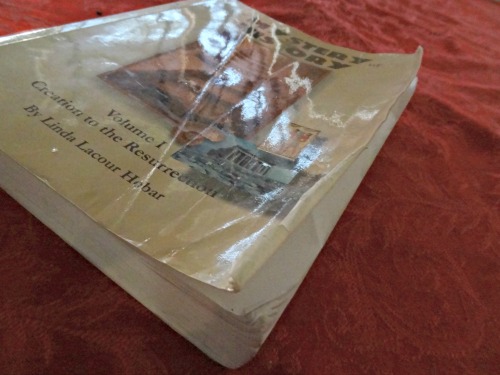 At the end of the school year, my book will look like this.  Worn out, with wrinkled pages and a creased binding.  But if I've followed my own advice, I won't be feeling like this book looks.  I'll still have that hope I started the year with.