The Top 10 Things You Need to Get Ready for the New School Year
Leah Courtney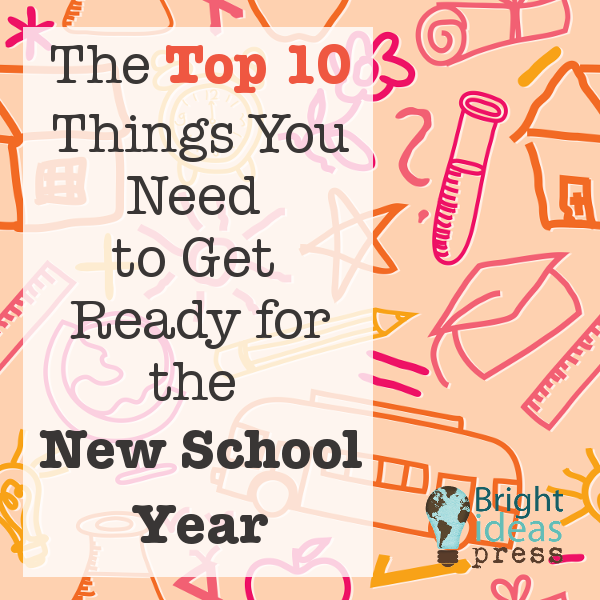 It's August! If you are a homeschooler who follows the schedule of a traditional school, you're probably headed back into your studies right about now. As you are doing all of your planning and getting your ducks all in a row, don't miss these top ten things you need to get ready for the new school year. None of these very items have anything to do with curriculum or school supplies. But all of them are essential to your homeschool year.
10. a sense of humor
Things we didn't plan or expect often happen during our homeschool. When these things come up, we can choose to roll with it and laugh it off, or we can get bent out of shape and frustrated.
Last year the kids and I worked on some art lessons that focused on different techniques. I jumped in along with them and gave it all a try. I discovered that I'm not a very good artist. And some of the things that I produced were pretty comical. I could have been frustrated with my lack of skill, but I laughed at my attempts. Because of my attitude, the kids felt free to laugh when they messed up instead of becoming upset about it.
9.a plan of attack
Everyone has a different style of organization. Some people prefer to be scheduled down to the minute. Other people like more flexibility. The important thing is to have some form of organization. If you don't have a plan, you usually fail to accomplish anything.
In our family, I like routines. I've never done well with a minute by minute schedule. But we do the same things in the same order each day. We have anchor points such as devotions in the morning and lunch. But if we're through with history in just twenty minutes one day and math takes one hour, it doesn't matter because our routines are flexible.
8. a heart of compassion
We all mess up. During the day, any number of things can go wrong for us or for our children. I spill the orange juice in the morning at breakfast. My son knocks over the open cereal box. Kids spill, break, tear,and  mess up things all the time. So do we. If we can show compassion to each other, our kids will learn to show compassion to us and to each other also.
My daughter was working on labeling a map in history this past year. She's the youngest, and when we do unit studies together, she always works hard to keep up. She had worked hard to make her map look good just like the big kids' maps. But as she was labeling with a marker, my son bumped into her. It was just an accident, but it ruined her map. She was devastated. But the kids responded immediately with compassion. My son apologized. Another sister gave hugs. Yet another sister offered to redo a map for her. Because they responded with compassion, she was able to pull it together and still have a good school day.
7. an attitude of respect
We often struggle with getting respect from our kids. But we sometimes fail to give our kids respect also. Kids pick up on our respect for them, for our spouse, and for other adults. The respect we model makes more of an impression on them than our words, telling them again and again to show respect.
I've realized that if I am saying disrespectful things to my spouse, gossiping about other adults,  or snapping at the kids with a tone of disrespect, the kids will act the same way. In contrast, when they hear me speak with respect, they realize that they need to show respect. And when we all are showing respect to each other, our homeschool days are so much easier.
6. a mind that is focused
There are so manyoptions that we have in homeschooling: different curricula, co-ops, support groups, field trips, extracurricular activities. Sometimes the choices can seem overwhelming. In order to have a successful homeschooling year, we need to have a focused goal and stick with it instead of running after everything. Sit with your spouse (and maybe the kids if they're older) and talk about what your goals are for homeschooling. Once you know what your family's goals are, you can more easily chose from the myriad of options available. It's usually not a choice of good or bad. It's a choice of good or the best. And when you stay focused on your family's goals, it's easier to chose the best.
I'm especially bad at this around homeschool convention time. I go to great workshops and visit wonderful vendors. And, of course, I want to implement everything! So I go home and line up the kids to lay out our plans. Two weeks later, I'm burned out. They're burned out. And we really haven't accomplished anything. I've learned to stay focused and chose only what works with our family, even if it means passing on something wonderful.
5. a sense of determination
I'm sure every homeschool mom has had those moments when we are ready to throw in the towel and give up. Sometimes, depending on the season of life, we do need a break. But other times we need to dig in our heels and just keep on. When babies are teething and toddlers are running wild and we're bent over a math book with the seven year old, it seems that this homeschooling thing might not be for us. But there are many benefits to digging in with determination and holding on.
My hardest homeschooling year was the year I had a barely one year old, a two year old, a first grader, and a second grader. My two-year-old was always finding something to get into. She dragged the newly walking baby into her plans. And every time my back was turned to help my very young elementary kids with school work, they were up to something. I constantly felt like I was failing somebody or all of them. I had prayed about (begged the Lord about) sending some of them to school, but I knew it was God's will for me to homeschool. So with lots of prayer and encouragement from family and my homeschooling friends, I dug in my heels and rode out that really hard time. Now I'm so thankful that we did.
4. a mind that desires learning
One thing I've realized over my almost sixteen years of homeschooling is that I learn every bit as much as my kids. I learn all of the things I'm teaching them. I learn about homeschool strategies. I read books that I never read in school. I attend workshops at homeschool conventions. I'm learning all the time, and I love it.
When I was actually in school, I never liked science. But now that I've had the opportunity to use some quality science resources, I enjoy science quite a bit. On the other hand, I've always enjoyed history, and with homeschooling, I never have to stop learning.
3. a great deal of patience
Sometimes when we teach our children a lesson— either in life or in our schooling— they get it right away. And we rejoice and move on. But most of the time our lessons have to be repeated.
And repeated.
And repeated.
And sometimes we just want to scream. But when we can exercise patience, our kids feel free to keep trying without fear of failure. And one day, they'll have that aha! moment, or we'll notice that change in their behavior, and we'll know that our patience has paid off.
My youngest child was very slow to learn to read. As a former special education teacher, I was worried. No matter how I tried to approach it, she just couldn't seem to figure out how to put the sounds together and make words. At the beginning of her second grade year, she was still struggling with some basic sounds. I was concerned, but I plugged along patiently and watched her. By the middle of her second grade year, she had her aha! moment. She became an avid reader, and now is almost always with a book in hand. I'm glad I was able to be patient and not rush her.
2. a heart full of love
There is a saying "Love covers a multitude of sins." I know that there are many things that I haven't done well in my years of homeschooling. But because we take time to focus on building relationships in our family, and we try to show love and to teach our kids the importance of putting others first, we have strong relationships with each other. Teaching love is hard. Showing love and putting others first is hard. But when we focus on having a home filled with love, it pays off in our relationships.
My older kids are teenagers now. They have their moments of disrespect and bad attitudes. But for the most part, they have a good relationship with each other and with us. It is a blessing to have that with them. And I'm glad that we've always tried to practice love in our family.
1. a house filled with prayer
Prayer is the foundation of our homeschooling. It's the binder that holds us together. All of the choices of curricula, activities, co-ops, and classes should be based in prayer. And when it is, it all comes together better.
My kids know in our home that if we've gotten off to a bad start— bickering siblings, kids arguing with mom, behind on getting going for the day— mom's going to call everyone together for a "word of prayer." It's amazing how stopping to pray together can restore our focus. It's hard to turn around and say something mean to your sibling or talk back to mom when you've just walked away from prayer time. And prayer provides a way to stop, focus on God's will, and move forward. I think prayer is definitely the most important thing we need in our homeschools this school year.
So there's my top ten list of things we need as we start the school year. Do you have any other things you think are very important to remember at the beginning of a new homeschool year?