Creating a Startup Plan and a Backup Plan for Your Homeschool
Marlene Griffith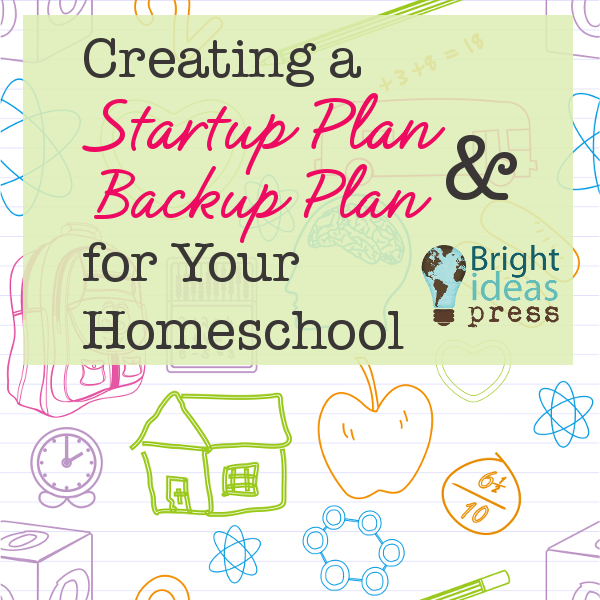 As the summer season draws to an end, I am mentally preparing for our new homeschool year. I'm excited to regain structure in our days, and to see my kiddos' eager minds learn new things. My goal this year is to have a great back up plan and to have a startup plan in place.
Startup plan
Make a list of materials you'll need for the school year. This doesn't include curriculum. On my list I have pencils, colored pencils, pens for mom, markers of all sorts for older kids and younger kids, paper, construction paper, tape, crayons, folders, binders, stapler and staples, glue sticks, rulers, pencil boxes, organizational bins, erasers, and page protectors.
Towards the end of summer, stores like Target, Walmart, and Walgreens have back to school sales. I like to also check Amazon and the Dollar Store. When sales pop up, I stock up on the items on my list. We start our school year in September, so we're able to take advantage of back to school sales in August. By that time most public and private schools have started and stores are trying to clear the shelves making space for fall items.
Decide how you want your first week to look. We've had school years where we do lots of fun activities the first week, and other school years where we just jump right in to our curriculum lessons. This year I'm going to balance it out and do a little bit of both. Here are the things we plan on doing our first week:
My children will have their own daily journals to write in. So week one we'll spend time decorating the outside of the journal and talking about what we're going to do with it throughout the school year.
My children will take some evaluation pre-tests. I'm putting together some worksheets to evaluate where my kids stand for language arts, math, writing, and reading. To know what they need to work on this year, I need to make sure they've retained the material learned during our previous school year.
We will be using a Daily Learning Notebook,  tailored to each child's age and learning level. We will spend time this first week of homeschool putting these together. My kids like to be involved in everything we do, so this will not only allow them to help, but it'll also be a fun way for me to get it all pulled together!
This year I'm bringing back the Homeschool Year Book. During our first year of homeschooling we created one by taking pictures of different school activities throughout the year.  Each child has his own yearbook, and I have mine too. At the end of each month we'll fill up the yearbook with pictures, notes, and drawings of our homeschool adventures that month.
Backup plan
What's a homeschool backup plan? It's a plan you have in place for days
where things just aren't going well
when someone is sick
when life just gets busy
when your toddler is unruly and is demanding more attention than normal
It's on these days when homeschool tends to stress us out because we want to keep up with our plans, but life isn't letting that happen.
So what do we do in those moments? We turn to our backup plan!
My backup plan consists of books, worksheets, and online video streaming (Netflix, Amazon Prime Instant Video, or YouTube).
Backup Books
This works best with older kids. As a homeschool family, we always have lots of reading books at hand. Plus, my kids love books even before they can read. We're always ordering new books, checking some out from the library, or rereading favorites. Here's how to use them on backup plan day,
Have your child read from a favorite book, or a book you choose. Then ask your child to write a few paragraphs, explaining what they read. Don't try and define this writing as an essay or book report. Over complicating it takes away from the simplicity of this backup plan.
Backup Video Streaming
Create a YouTube Playlist of educational videos.
Create a Netflix Homeschool Backup Profile. With Netflix you can create several family profiles. I have one specifically for our homeschool.
Watchlist with Amazon Prime Instant Video. Unlike with YouTube and Netflix, I can't create multiple playlists/profiles with Amazon Instant Video. Instead, I simply save lots of educational and fun videos for my kids to watch in our playlist.
I turn to these playlist throughout the year for our normal schooling, but it's also where I turn to on days when I need a backup plan. Each one took maybe takes 1o-20 minutes of my time to create, and once they are created I just go and add in more as I discover them.
Backup Worksheets
These are nothing more than fun printables for kids to keep busy with. You can find loads of these online completely free. I keep several of them in folders for this purpose. They consist of all subjects such as math, language arts, cut and paste (crafts mostly), and coloring pages.
Having a start-up plan and a backup plan will help not only jump start our school year, but will also reduce the stress on those days when schedules fall off trail.