How to Banish First-Year Homeschool Burnout
Michelle Cannon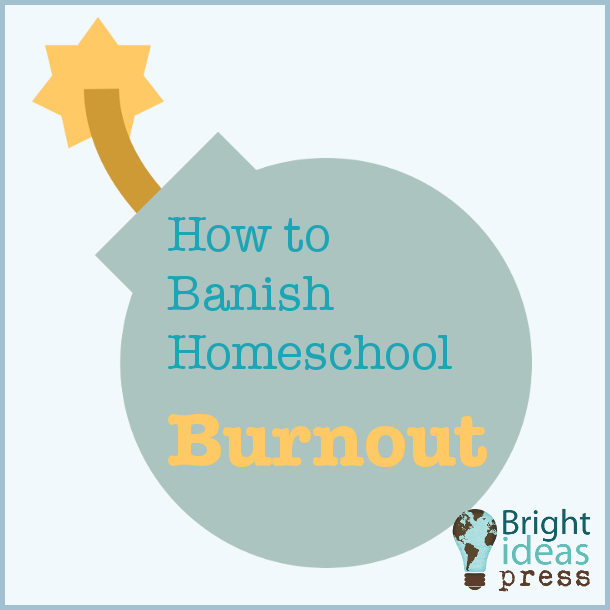 Yesterday a colleague asked me what types of calls I get in my homeschool consulting business. I didn't even have to think about the answer. Nearly every call is from a parent in her first 18 months of homeschooling who is feeling completely overwhelmed and whose children are resisting school time.
What causes this type of homeschool burnout?
While the individual situations of these families may vary, there are a few commonalities between them. In evaluating the circumstances, I usually find at least one of the following to be true:
The parent is trying to do school at home, turning her homeschool into a home-version of the public school classroom.
Lesson times are too long for the child's attention span.
There is a strong focus on the getting the assigned lessons of the day complete, no matter what.
There are not enough brain breaks for the child.
How can you prevent or change this type of situation?
If you've found yourself in this situation, let me assure you that you're not alone. The fact that 95% of my consultations are variations on this situation is a good indication of how common it is. I've done it myself. It happens.
I have a few tips to help you avoid or remedy this problem.
School at home doesn't usually work.
Trying to emulate the public school system is usually self-defeating. First of all, I will assume you wanted more than that for your children which is why you chose to homeschool, right? It is one thing to be in an institution, behaving in ways the institution wants us to. It is an entirely different thing for mom to turn home into an institution.
It has been my experience and observation that kids do not respond well to this method. Try something more relaxed. Look into styles of homeschooling such as relaxed, unschooling, Charlotte Mason, Thomas Jefferson, Waldorf, or Montessori. The common feature of all homeschooling methods is that they are not school. They've been developed because parents and educators have a desire to teach a child within the child's abilities, nature, and skills.
Shorter lesson times work better for children.
Children do not have the developed attention span of adults. Typically an elementary age child can spend 10-20 minutes on a task (30 minutes for middle ages and 45 for high school ages) before losing focus, for instance. Pushing a six-year-old child to spend an hour on a subject is asking him to push himself to four times his mental abilities.
Let's relate this to our days. Most adults work 8 hours per day. What if your boss suddenly assigned you 32-hour shifts? Could you do it? Or would you be exhausted, bitter, and irritable? Would you refuse to do it? Would you look forward to doing it?
I understand that different methods may call for a certain amount of time on subjects. For instance, Classical Conversations may ask that a child spend an hour per day on math. That's fine. But what if the child divided that hour into 15 minute increments. So after a quarter hour on math, she has 15 minutes of arts and crafts. Then that is followed by 15 minutes of reading and then 15 minutes of play time. Then bring the child back to finish the rest of the math.
Do you think the child would perform a little better then?
Find out what works for your child. Individualize his education according to his abilities. This one adjustment can make a world of difference.
Let the schedule be your guide not your master.
Schedules are an excellent tool. They give us a sense of order. While some things, like doctor appointments, are set in stone, other things may not be. For instance, I can serve dinner at 6:00 p.m. even if I wrote it in for 6:30 p.m. on the schedule, right?
Homeschool works much the same way. Yes, you want consistency and routine, but does everything need to be precisely as scheduled? Probably not.
Maybe a child is not focusing well on his 10 o'clock math lesson. We cannot control the child's focus, but we can find something to wake his mind up. Switch tasks. Let him do what he is capable of doing at that moment. (Perhaps a salt dough map for geography is interesting.) Math can be done when he's more focused.
The wonderful thing about a day is that it has 24 hours.
Homeschooling usually takes only a few hours of the day. It can be broken up into a more relaxed routine when necessary. The point is to let the schedule be a guide. Don't let it rule and ruin your day.
Give your child regular breaks.
You know your child better than anyone. You can give him breaks when you see his mind is growing weary. There is nothing wrong with letting a child break for 15 minutes to get some energy out, grab a snack, or sculpt with play dough. Whatever keeps your child motivated and focused, do it.
Use positive statements when talking to children about these breaks. Express confidence in their abilities and be specific about what is happening.
Negative: "If you finish your math, you can have break."
Positive: "As soon as you've finished math, we'll go outside and look for butterflies!"