Studying the News With Your Children
Jimmie Lanley
Our September hangout with Tyler Hogan and homeschool mom Heather Woodie centered on including current events into your homeschool or family routine. The advice was to include news naturally as inspired by radio, online or TV news or even when observing local situations firsthand. Make the news a part of your dinner conversation instead of a full blown unit study. There is no need for a writing assignment unless you want to do that far. A discussion is often enough to bring the news into focus for your children. Here are a few highlights of Tyler's contribution to the discussion.
Why is it important to include current events in your homeschool?
Current events make abstract ideas real. For example, in geography, it's one thing to read a lesson about aquifers or sustainable agriculture, but it's different to see news stories about real people in Florida affected by saltwater intrusion into their aquifer or areas suffering under famine and crop failure and what that means for people.
How in the world can you add one more thing to an already busy homeschool day?
It doesn't have to be a whole new subject. If you watch the news or read articles online, call your kids in to watch too, read the article together, and discuss it. Make it part of your dinner table routine.
What is the best way to introduce current events to kids? Share practical ideas for how to do this.
Get a subscription to a good kid's news magazine. God's World News has age-appropriate magazines for littles, middles, and teens. A local paper is also a good idea for junior high school and up. Or find a good blogand let your kids check it themselves.
How can you deal with the unsavory elements of the evening news while still delving into current events?
Theology matters here. You have to have worked through a theology of sin, of common grace, and maybe even a little eschatology. Remember that you're not going to be able to shield them from the world forever, but you can equip them to deal with the stuff they're going to find. With teenagers, don't be afraid to delve into the dark stuff. They need to know it and know how to process it. You set the tone. Always bring it back to the gospel.
What are common mistakes parents might make when trying to include current events into their day?
There is no need to make everything into a unit study. A simple discussion may impact your children far more than a lengthy lesson. And don't be overwhelmed. Remember that it is better to do a little bit imperfectly than to never do anything because you are holding out for perfection.
How to Use Current Events in Your Homeschool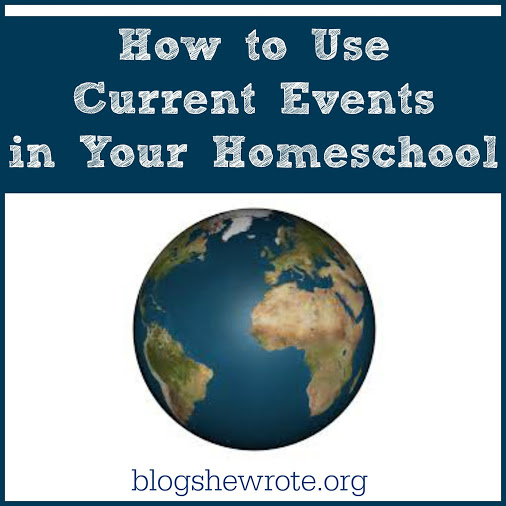 Don't miss Heather Woodie's contributions to the discussion in her wonderful blog post titled How to Use Current Events in Your Homeschool.
See all our upcoming 2014-2015 hangouts here, and watch our archives on our YouTube channel.