Homeschooling When Both Parents Work
Samantha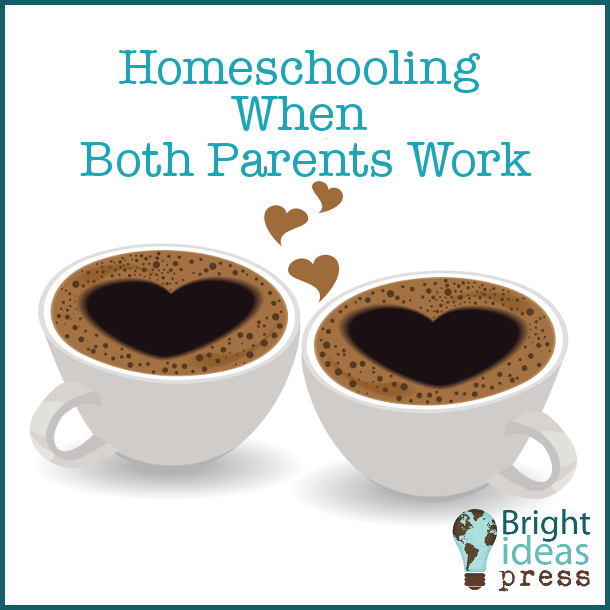 When we began homeschooling, we knew that it was a family affair. We wanted learning to be something natural and something that happened with books opened or closed no matter who was present. That being said, as a stay at home mom, the bulk of the homeschooling responsibility fell to me even when I began working away from home in the evenings. Recently, all of that changed when I had two rapid promotions which required day shifts. My husband has stepped up to the plate to keep homeschooling a reality in our home. While this might not be possible for every family, we are making the most of being a homeschool family with two working parents.
Be Specific About Each Others Needs
My husband has a very important job as a minister. Obviously, he needs study time. This time needs to be quiet and as undisturbed as possible. His job has more flexibility than mine, but we also make sure that we are mindful to make room for office hours so that church members can reach him if needed.
We had many discussions before this came to pass, many of them happening before I even accepted each promotion. We spoke at length about our expectations of the other, our concerns, and what to do in case things went a bit crazy.
Divide the Homeschool Load
With my husband home more during the day than I am, he is left with the bulk of the teaching load for now. My main objectives are one-on-one time with our first grader and homeschool planning.
Dividing the homeschool load will look different in every household, but you have to do what works for you. No two situations will be alike.
Allow Your Children to Take On More Chores
I've always been a bit easy on my children as far as chores go, but my husband has a heavier hand with that than I do. He is much better at delegating chores and keeping everyone busy during downtime. That is the beauty of a family; everyone has a different strength! It is good for children to have an interest in what is going on with the home because they see what hard work goes into keeping things tidy and are more likely to want to keep it that way longer.
Allowing the children to take on more work is a necessity for homeschooling to continue while both parents work. There just aren't enough hours in a day to get everything accomplished without them!
Have Fun
Homeschooling is a huge job. It takes time, effort, and sometimes sweat and tears. Be sure to step away from the books together as a family and do the fun stuff as well. Plan random mental health days when you go to the park or the zoo. Take an impulsive drive to a new ice cream shop.
When your family can see the reward in all of this hard work, everyone will be more willing to plow through the tough times.
Homeschooling when both parents work is a juggling act, and isn't always pretty, but I think the benefits for both parents and children far outweigh the negatives that come up along the way.