The Most Important Things I Want to Teach My Kids
Leah Courtney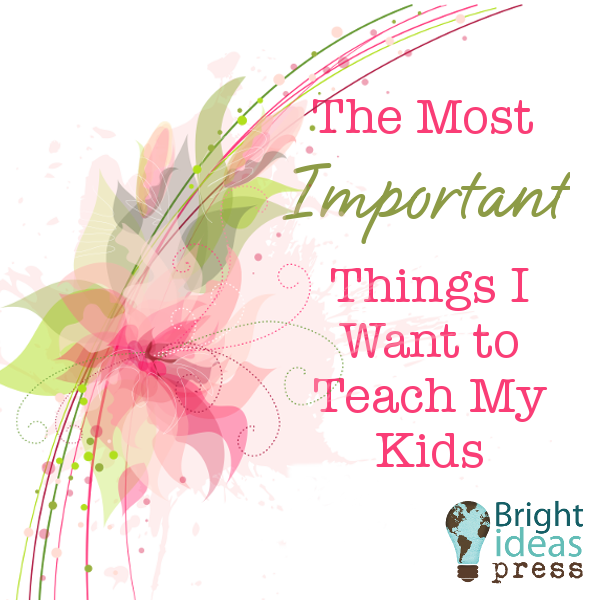 As the new school year rolls around, I find myself checking out other blogs to read about new homeschool curricula for the year. I love to see what subjects other families are studying and what curricula they're using. And sometimes I find a new subject or new curriculum that I think would be a good fit for us. I'll evaluate subjects and classes in light of our homeschooling goals.
But the most important things that I want to teach my kids aren't academic at all. They don't come packaged in a nice neat curriculum. But they are the things that I want my kids to walk away with when their years of schooling are over.
You were created for God's glory.
This is central to they way I want my kids to live their lives — desiring to glorify God. If that means becoming a doctor, a janitor, a missionary, or an artist, I want them to know that they were created to glorify God through their lives.
God created you in a special way.
God didn't make everyone to be the same. Even in a family of multiple children, my children have different strengths, different weaknesses, and different likes and dislikes. I want my children to know that it's okay if they aren't great at math but excel at sports. God can use my children's talents whatever they are.
We are commanded to love God and to love others.
In Matthew 22, Jesus is asked what the greatest commandment is.
Jesus replied: 'Love the Lord your God with all your heart and with all your soul and with all your mind.' This is the first and greatest commandment. And the second is like it: 'Love your neighbor as yourself.'
I want my kids to know that they should love God by obeying His commands and that they should love others.
Always look for ways to put others first.
Children know how to be selfish without being taught. They want the toy, and don't want to share. They want the biggest piece of cookie. They scream and whack the high chair when you don't hop to it fast enough with that dinner. Their natural inclination is to be selfish.
I want to teach my children to always seek the opposite of selfishness.
Seek to put others first.
Let the sibling pick the movie today.
Share the toy.
Offer to pick up for mom and dad.
Think of others before yourself.
Impress God, not other people.
It's a fact that you can never make everyone happy. Trying to dress a certain way, act a certain way, wear certain clothes, or talk in a certain way just to impress people won't work for long. And, really, in the long run, whose opinions matter?
I want my children to learn to seek to please God and not everyone else around them. I want them to look at a situation and consider, "What does God want me to do?" and then do it. Instead of questioning what everyone else will think, I want them to value God's opinion as the one that matters.
It's so easy to get in my mind that we must have this curricula, take that course, or read this book. But these five things are the most important things that I want to teach my children. These are the things I want them to take a way when their years of homeschooling are done.