Things I Learned About Raising Boys
Lisa Rupertus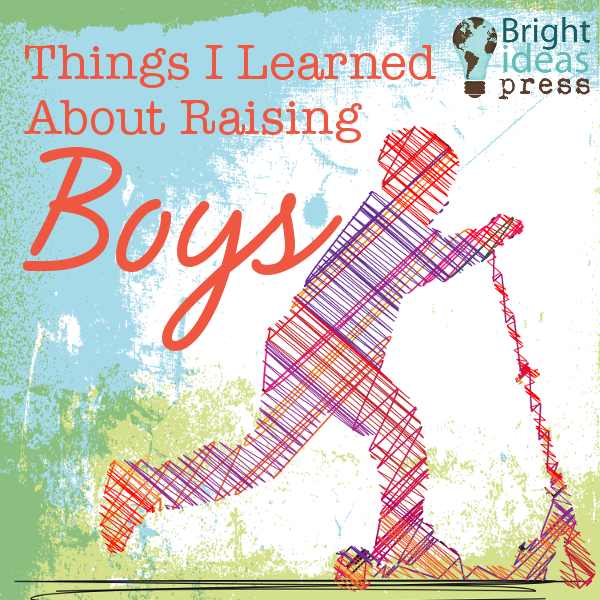 God has blessed me with three men to raise, each with his own strengths and weaknesses.  Raising all boys comes with challenges that are different than raising mixed siblings or all girls.  I'd like to think I was chosen for this mission because I had the right stuff for the job. Here are a few things I've learned about raising these boys.
Boys Like to Move
Wiggle room.  All three of mine like to move all day long.  They are never going to be content to sit at a computer or workbook for hours on end.  This can be challenging when choosing curriculum because I have to take their tendency to move into account.  We use a mixture of books, workbooks, DVDs, computer learning, and hands-on experiments so they are changing activities through out the day.  Chores and meal times help break up the actual day as well.  Getting outside is another wonderful tool for movement which satisfies that need to wiggle.
Boys Are Capable
I've noticed lately that Moms are not giving their growing sons much credit. My oldest takes care of the outside work.  He loves mowing the lawn, weeding the flower beds, and power-washing the house.  He has actually asked for a weed wacker!  If I had said "No," or "You are too young," he wouldn't have had those skills.  On the flip side, my middle son loves to cook.  I can set him to a task in the kitchen and he does an awesome job.  My youngest is only three, but he is already learning to help other family members with their jobs.
The thing about letting them flourish in their areas of strength is that they are also learning skills that will take them further in adulthood.  By letting the older kids learn new skills they are also building self-esteem when they see how their hard work.  I know there might be mistakes (like a lilac bush being pruned a bit much), but there is also learning.  Learning isn't always book work; sometimes it is life-work.
Boys Are Our Future Men
This might be the single most important thing on my heart:  I am raising three future men of God.  Growing up to live for God doesn't come overnight.  It comes by prayer and character training.  I've been talking to my older boys lately about their future roles as heads of their households.  This is no small task but a great responsibility.
With this end goal in mind, we are focusing more on Bible reading, memorization, and character training than we have in the past.  I want my sons to have natural habits that will help them be successful men of God when they are grown.
As a mom I've noticed our days are long, but the years are short because time flies by much more quickly than we expect.  I hope when I look back, I will have taken opportunities to be a good parent and that my sons will recognize the hard work their Dad and I invested to train them before the Lord.