What a Veteran Homeschool Mom Can Do During a Sabbatical Year
Suzanne Broadhurst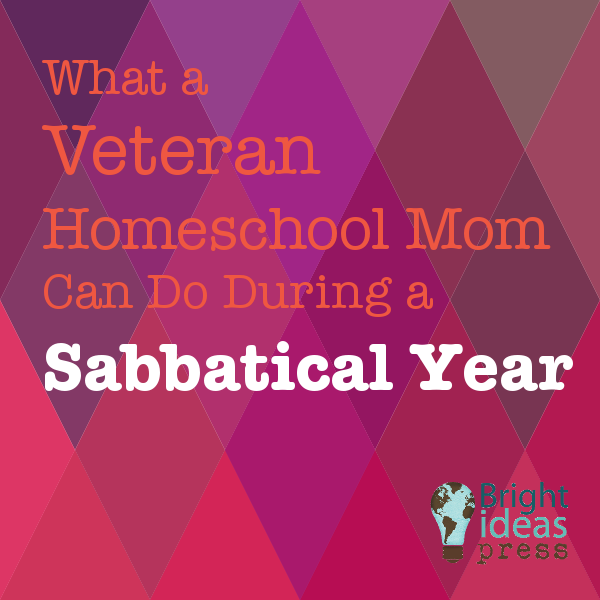 Choosing to have a sabbatical year after all the children have graduated doesn't necessarily mean sitting on the couch, reading books, eating snack foods of questionable nutritional value. But if that's what you need, then do it! You've earned a rest.
I thought I would take about a year of rest like an otter on a rock, eating mussels and playing with string. It lasted about a week if that long.
So, what should we do during our sabbatical year as a veteran homeschool mom?
Get to Know Thyself
We know our children. We've served them and served with them. We have worked for them and worked with them. We've laughed, we've cried, and we've prayed together. We know why they do this but don't do that.
We know them. And although there is always more to learn, we know them well.
How well do we know our new selves?
We've changed over time, too. Chances are we've noticed our hair color gathering highlights and our energy levels morphing into levels previously only seen in older generations. This gap year for the grown up is a good time to ask ourselves some soul-searching questions.
How have we changed in the twenty years since our children's births?
What do we like now?
What do we dislike?
What do we laugh about?
What do we cry about?
What new prayers do we pray?
What are old prayers we continue pray?
Why do we do this?
Why don't we do that?
Say Yes to Short-term Opportunities
When our store of self-info has been updated, we will have the temptation to say "yes" to the first long-term opportunity that comes our way. If you really know that's what you want to be doing for years to come, go for it. But if there is any hesitation, step back from making long-haul decisions.
We Know We Can, But We Don't Have To
Homeschoolers have learned how to make long-term commitments like marriage, raising children, and educating them. When I look at back on the last quarter decade, I see God's grace in helping me stay the course even when I got off track at times. So for one year, I chose to say "yes" to commitments only under these conditions:
a) The commitment was a one-time event.
or
b) I could say "no" at any point and walk away without guilt.
I hope my guidelines help you think about your future as a veteran homeschool mom so you can delight in a sabbatical year.