3 Ways Moms (Unknowingly) Sabotage Their Homeschool
Sallie Borrink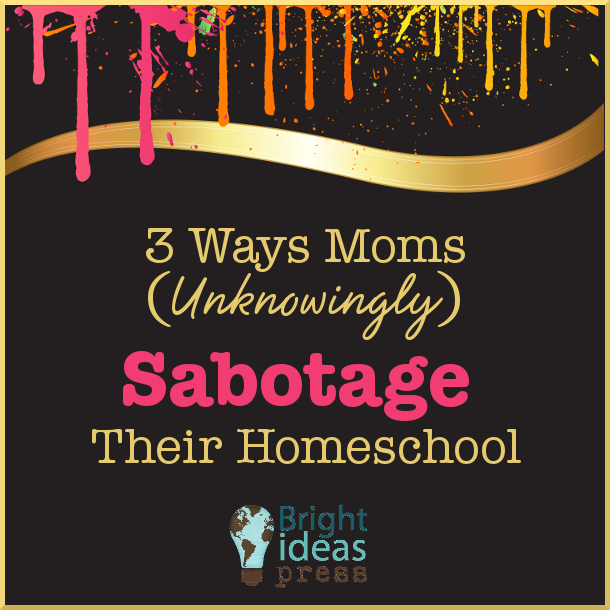 It's hard to believe that a mom who would make the significant decision to homeschool her child would at the same time sabotage that effort, but it's true.
Although this sabotage isn't intentional, as homeschool moms, it is easy to have expectations or ideas that don't match the reality in which we live. As a result we may be unknowingly sabotaging the very homeschool that we long to make effective and meaningful. Here are three ways we may do it.
1. An Unrealistic Homeschool Mom Ideal
Let's cut to the chase with this one. The perfect homeschool mom doesn't exist.
Oh, you already knew that?
Well, guess what? The ideal homeschool mom doesn't exist either.
Most moms know that the perfect homeschool mom doesn't exist. But many homeschool moms still harbor in the back of their mind that the ideal mom is attainable. You know who that is.
The mom who seems to juggles it all.
The mom who makes great meals, plans creative lessons, manages the money well, bakes all the treats from scratch, keeps in shape, wouldn't dream of wasting money at Starbucks or McDonalds, and is the attentive wife every evening.
That ideal doesn't exist. We don't live in Pinterest-land. And if we constantly have in the back of our mind that we can live up to that ideal if we just try a little harder or get a little more organized, we're setting ourselves up for a lot of frustration.
It will sabotage our homeschool efforts.
Why?
It's too hard to keep going when we feel constantly defeated.
Get rid of the idea that you can be the ideal homeschool mom. You can't. Most homeschool moms (if they are honest) will admit that they muddle through many parts of their life each week. Whether it is letting the kids play Minecraft for hours on end, eating oatmeal for supper, or purchasing a huge mocha to get you through the day, we've all been there. And we will all be there again. Many times.
And it's okay. Don't undermine all the good you are doing with your family by beating yourself up for not doing it all. No one does.
Let go of the ideal you think you can obtain if you just work a little harder.
Tell that ideal woman to get out of your brain!
2. Expecting Your Child to be Like (Insert Name Here)
Many of us chose to homeschool because we believe in the individual needs of our child. We know that she wouldn't thrive in the traditional classroom setting and so we desired to give her something better.
And then we unconsciously wish she was just like (insert name of ideal child here).
It could be a child at co-op. It could be a child we read about in a book or saw on Facebook. It could even be the child's sibling.
We're not homeschooling the example child in the book we read by the expert mom. We're not educating the child at co-op. We're not even educating the child's sibling in this case.
We're homeschooling a unique little individual with her own needs, strengths, weaknesses, fears, joys, and way of approaching the world.
If we have this idea in the back of our mind that homeschooling would be so much easier/more enjoyable/better if our child was only (insert ideal here), then we're setting ourselves up for frustration and disappointment.
We're sabotaging our homeschool. And, frankly, we're sabotaging the very child we think we are trying to help.
3. Failing to Understand Your Child's Unique Learning Style
Some moms readily understand that their child has a unique learning style. It may be one of the primary reasons they realized they needed to homeschool.
But for some moms, especially those with many little ones, it can be more challenging to sort out the specific learning style of each child. Sometimes time is limited. Energy is limited. Where a mom with one or two children can really focus in, a mom with many may find it harder to do so.
There are some children who just go with the flow. They will do pretty much whatever you give them to do. The format really doesn't matter too much. They aren't particular about much of anything. Those kids make homeschooling a bit easier.
But some children truly do have a learning style that requires something different. For example, if you have a right-brained child and you are trying to require her to do work that is the direct opposite of how she learns best, you are going to have a difficult time of it. What might appear to be an attitude problem at first glance could in reality be frustration spilling over from a little person who doesn't know how to express what is wrong.
If you have a child who seems to struggle to stay on task, work with a good attitude, and cooperate, you might want to step back and consider learning style. It might not be a heart issue at all. It might be a brain issue trying to find expression.
By forcing a child to do work day after day that doesn't fit with the way her brain is wired, you are consistently undermining your homeschool endeavors with her.
The good news is there is so much available online to help you sort out this issue. While it might take some extra work and planning on your part, in the long run it will save a lot of time and energy that won't have to be channeled into arguments about cooperating, focusing and getting the work done.
Keeping Homeschool Positive!
Homeschooling can be such a positive experience for everyone. Not perfect, but positive. Part of keeping it positive is looking for the subtle ways we might be unknowingly undermining our efforts. With a few adjustments, you might be surprised to see how differently things appear tomorrow!