The Dangers of Turning Curiosity into Homework
Suzanne Broadhurst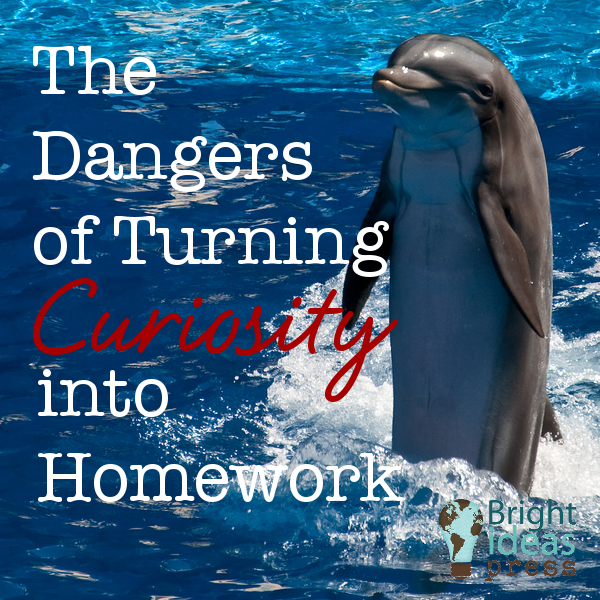 Meeting our children's educational needs will have a positive effect throughout their lifetimes and beyond to continuing generations. However, taking our child's lead and running away with it can be a disservice to the very ones we serve.
Curiosity Ropes the Calf
Children are naturally curious. They like to dream big and often.
They also like to announce their dreams:
"I want to be a fire fighter – in space!"
"I want to be a ballerina at a coffee shop!"
"I want to be a cowboy in the Antarctic!"
As homeschool parents, always on the lookout for new edu-direction, we tend to rope their dreams like calves in a rodeo. But mamas, those calves aren't ours to rope.
Curiosity Belongs to the Children
We may see great potential for a unit study as their curiosity feeds our love of research. Edu-activities can run through our minds like a river in a parched valley!
But curiosity belongs to the children.
We need to step back and let them dream, let them discover. Or we might crush their dreams by our own enthusiasm.
A Personal Example: I Want to Be a Dolphin Trainer!
The words from my young daughter, "I want to be a dolphin trainer!" sent me into a flurry of research. I checked out every library book on dolphins I could find.
I overwhelmed her with dolphins: dolphin books, pictures of dolphins, websites about dolphins. I assigned maps of dolphin habitats; I bought her a dolphin-themed notebook. I assigned dolphin-related creative writing projects.  I even researched how to get a job at Sea World.
The problem was my daughter was eight or nine years old.
Turning Curiosity into Homework
By the time I was done with with my homeschool mothering, she was done with dolphins. And I often wonder if I got too excited. Maybe I got too enthusiastic over the subject and homework-ified dolphins.
I made a similar mistake with my son, regarding a little book he wanted to read called, War and Peace. Gee, I had a wonderful unit study planned. 
Where Did I Go Wrong?
For one thing, I took the rope in my own hands, lassoed the calf of curiosity and left my children with the bones to pick over. I did the fun part myself, forgetting that half most of the learning adventure is the adventure of learning.
The joy is in the edu-journey.
The second thing I did wrong was I turned the dream into homework.
If curiosity becomes homework, passion may fizzle.
The third thing I forgot was freedom. Children want freedom to dream, to discover.
Children do not want their autonomy overthrown or the direction of their dreams dictated.
What I Learned
I learned to let them lead. I learned to follow.
While I followed, I looked for ways to develop their knowledge-roping skills:
I introduced a variety of sources, but let them choose the route to information and the details they chose to learn.
I offered a medley of tools to record information, but let them record what was important to them.
I suggested an array of approaches to analyzing, then left it to them to decide how deeply they wanted to think.
What If They Don't Pursue Their Curiosity?
When it comes to dreams—in contrast to basic skills and important foundational subjects, such as history and science—increased information is optional.
As you meet your children's edu-needs, teach them the necessary skills to feed their dolphin dreams if they last beyond the week. If the dream is truly a lifelong passion, they will seek out information.
And you can be there to teach them how to find it.
Photo Credit: Loren Sztajer via Compfight cc