How to Get the Most Out of a Flat Traveler Exchange
Ticia Messing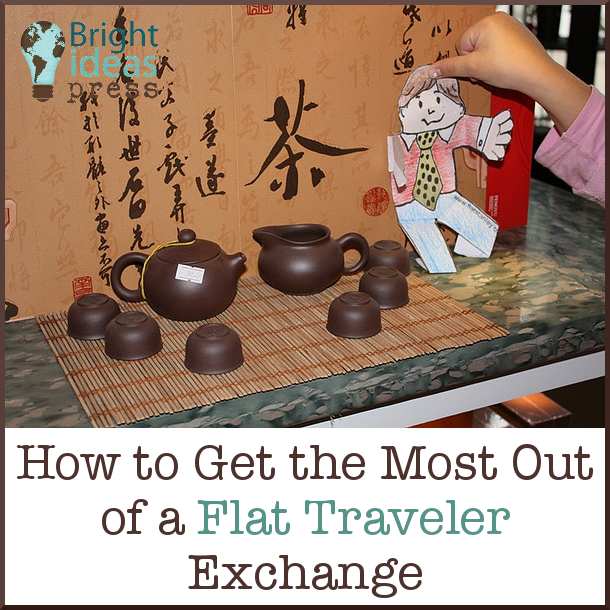 With the start of a new year many of us are participating in Flat Traveler exchanges, and some of you lucky people have one traveling to Europe.  If yours is traveling to Europe with Maggie, I am incredibly jealous.  More jealous than words can say.
I have participated in several flat traveler exchanges, and they can be good and bad.  Here's what I've learned from them.
Plan ahead for your flat traveler exchange
What type of flat traveler program are you going to arrange?  Are you planning with several friends and mailing them in a loop?  If you are planning that type here's what I learned from exchanging with several people:
Keep the group somewhat small, 5-10 families at most.  Always mail to the same person, and set up a specific date to PUT IT IN THE MAIL.
Set up what you will be mailing back to the original family.  In the two different ones I did we mailed a short letter, a postcard or two, and a couple of pictures of their flat traveler.  The more recent one was during days of email, so pictures were more easily exchanged.
Set up one, and only one contact person.  Figure out who to contact if you don't get the person, and what to do if a flat traveler is hurt.
Or maybe you're planning this on your own and you have several flat travelers going out to several friend.  I've also participate in one like this.  Here's what I learned when I was mailed one:
Ask ahead of time, don't just mail it and then call them.  You will end up with a disappointed child and a guilty friend or family member.
Set a clear return time.  The last one I was part of I didn't find out when to return it until after it was expected back.
Explain what you want.  Do you want pictures?  Post cards?  Stories?  History?
Great things to mail with or from a flat traveler
I've been in flat traveler programs that were great, and I've been parts of ones that were disappointing.  I'm sure I've also been the person who was disappointing the recipient.
postcards, pictures, and brochures- All of these can provide nice snap shots of the area your flat traveler has visited
letters or emails- this is what the flat traveler exchanges started with.  They were just letters written by the flat traveler.  They were funny stories, weird places they fell, and were usually hand written.  Of course that was at least 20 years ago.  Boy do I feel old now.
picture books- Is there a picture book your area is known for?  When a friend from another state sent me one, I sent her a copy of "The Legend of the Bluebonnet.  It's a classic tale here in Texas, and every school age kid reads it almost every year in public school.
tourist items- The silly stuff you find in stores along the way, those can be fun, my most amusing package from this came with a plastic flower lei from Hawaii.
local plants- You know what the coolest item I ever saw in a flat traveler package?  A cotton pod from a state that grew cotton.  I was so jealous I didn't get one, but I wasn't part of that particular exchange.
Tips to ensure your flat traveler survives
Gone are the days you can make a flat traveler out of notebook paper and he'll survive (did those days ever really exist?).
Make your flat traveler out of nice sturdy paper, cardstock, cardboard, something like that.
If you have the capability, laminate your flat traveler.
Make multiple copies.  I haven't had an exchange yet where someone's flat traveler wasn't torn.
Any tips I need to remember?  It's been a few years since I participated in a flat traveler exchange, but they can be a lot of fun if you're willing to put some work into it.