Four Tips for When You Can't Do it All
LaToya Edwards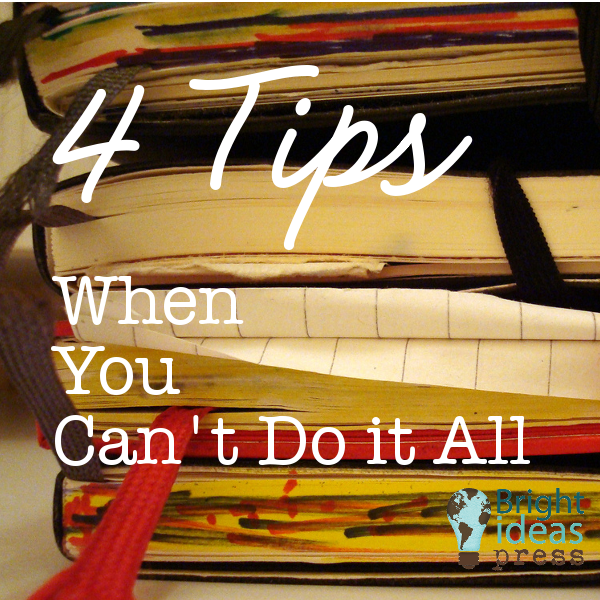 Anytime that I'm talking with another mom about life, motherhood, and homeschooling the topic of "getting it all done" always comes up. It's a question that lands in my inbox often, "How do you get it all done?"
Honestly I don't get it all done. There's just no way that I can.
As a single mom, I have many plates, bowls, and saucers spinning in the air. I have learned that when I try to keep it all going, many things crash and burn.
The Myth of Getting it All Done
While the idea of getting it all done is great, it's actually a myth. I have learned that I have to do the best that I can with the time and energy that I have and then cover the rest with a ton of grace. Here are a few things that have helped me let go of the need to get it all done.
1. Have a schedule
I know that for many people schedule is a bad word, but I live by mine.  Having a plan for my day helps me focus on the important things and allows me to carve in time for fun and rest.  I have blocks in my day for homeschooling, work, chores, sleep, and having fun with my boys.
If you really don't like a schedule, then create a routine for your day. Order is a good thing!
2. Declutter
We live in a culture that is all about stuff. I learned a while ago that I need to be intentional about decluttering our home. Recently my boys and I reduced the amount of stuff in their room. We had five big bags of toys that we gave away to other families. It was so nice to walk into their room without stepping on toys, and I found that they played without fighting all the time too.
3. Set your priorities and stick to them
Knowing what is important for your family goes a long way towards keeping everyone sane. In my home, I place a high value on time as a family and making sure that we are all well rested. That means that my boys have an early bedtime (7:30 p.m.), and we don't do a lot of extra activities that require us to be away from home. As of now, we have one activity on Wednesday nights that takes us away from home.
4. Keep things simple
I'm a slowing learning the art of living a simple life. It's been freeing learning to find our family grove instead of trying to keep up with the homeschool Joneses.  Our lives don't have to be Pinterest perfect. It's okay to have mac and cheese for dinner a few nights a week if it means more quality time with your family.  You don't have to do every single activity in your teacher guide.
Photo Credit: Infodad via Compfight cc
---