Helping Your Child Develop Library Skills
Suzanne Broadhurst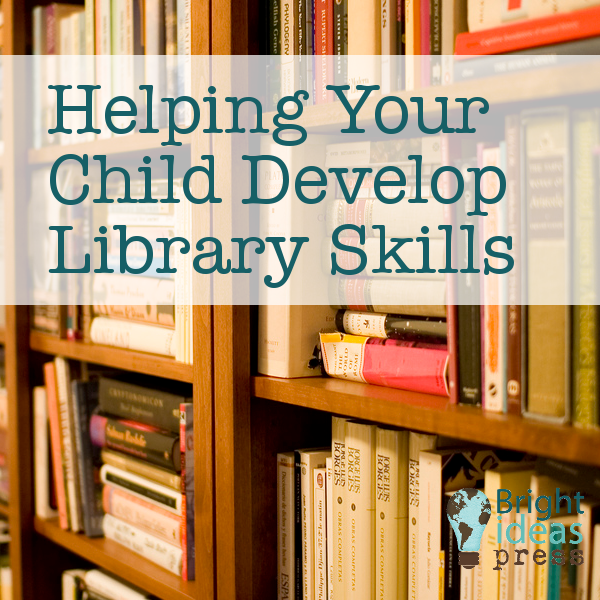 How proficient are your children with making the most of your public library system? Instead of creating a unit study, take the time to first observe and then plan before you teach.
First Step: Observe
Take your child on a trip to the children's library and watch what they do.
Do they approach the library systematically?
Do they wander around looking for something to do?
Do they know what they are looking for?
Can they read the signs?
Do they understand the Dewey decimal system?
Do they head straight for the toys?
Write your observations on paper.  You'll need them at home for the second step.
Second Step: Plan
Look over the list of observations you made in the library. What skills or knowledge does your child need to increase their desire for and effectiveness of lifelong learning?
Maybe your child needs to
Understand the difference between and the locations of fiction and non-fiction sections.
Read signs in the library: Exit, Do Not Enter, Restroom.
Have a basic understanding of the Dewey decimal system.
Know about the variety of resources available: music, books on tape, art classes, etc.
Step Three: Teach
Now that you have a plan, on your next trip to the library take an informal tour of the children's library.
Walk around the shelves, introducing the terms fiction and non-fiction.
Read the signs aloud to your children.
Point out the numbers on the shelves, but don't overwhelm them with the whole system at once. Let the learning come at a natural pace.
If you aren't sure what kinds of resources are available in the children's library, it's time to take the fourth step, one which involves a bit of humility, but will pay off in the long-term as a family.
Step Four: Learn With Them
Admitting that we don't know something is humbling to a parent, especially a homeschooling parent. We're supposed to know everything, right? 
In this case, we do know more than our children know: We know the library gives tours!
Be a Role Model
Sign up for a tour with your child, arrive on time, and carry pen and paper with you to jot notes. You can probably remember everything the librarian tells you, but you are a role model to your child.  They can't see you are listening, but they can see you are taking notes.
If your child is old enough to handle a small notebook and pencil responsibly, have them take notes, too.  Even if it's just scribbling, they will develop the habit of careful listening and recording information.
Lead Them Beyond What You Know
These four steps work with a variety of learning environments and subjects, including the basics such as writing at the kitchen table and the fun stuff like maps on the living room floor.
The key is finding out what they understand, so you can lead them to what you understand and beyond. 
---
---