Using Picture Books With Older Kids
Ticia Messing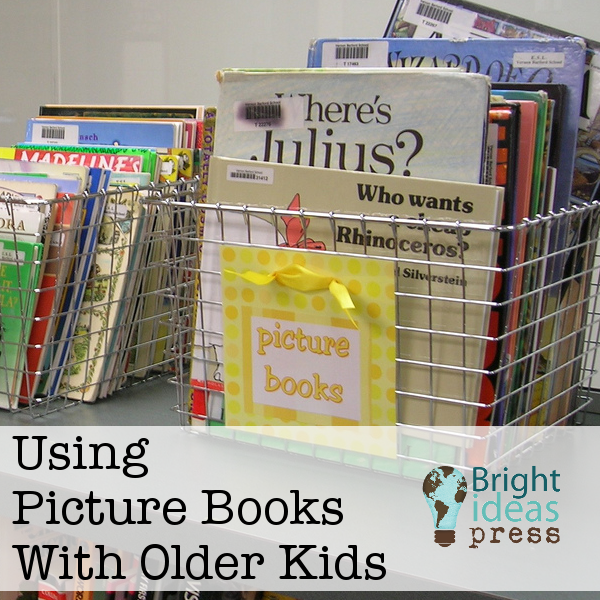 Today I read a picture book to my fourth grade boys. We used the same picture book for three different lessons, and I taught them grammar, writing skills, and word choice with the help of that picture book.
Why use picture books with older kids?
Picture books can be a great introduction to difficult topics.  Did you know there are picture books about the Holocaust?  This can be a non-confrontational way to introduce tough topics and to allow for discussion.
Picture books can quickly illustrate a point.  You can read a whole novel to learn about the literary elements of tone and text, but that could take weeks.  Or you can read Tough Boris, and see how beautifully Mem Fox paints a picture of grief in very few words.
Picture books help visual learners.  I still remember the cover and what my childhood copy of Cat in the Hat looks like from.  The back cover had a torn plastic pocket because I took the cassette tape out so often. Visual learners will be able to tell you amazing details about a picture they saw years later.
Picture books express emotions clearly.  Pink and Say by Patricia Polacco vividly portrays the brutality of the American Civil War.  As you read this picture book, you feel the sadness of the main character through his eyes.  You don't get that from a text book, and you often don't get it as concisely from a novel.
How am I using picture books with my older kids?
The picture book I mentioned earlier was a retelling of Jack and the Beanstalk.  We used it as a base to learn about adjectives and to identify strong adjectives.  Then we talked about how sometimes we use nouns as adjectives.
From there we talked about voice and word choice in writing   It's boring to say, "I ran away."  But to say, "I galloped out of there like my pants were on fire with the giant cattle rustler chasing me." is mighty interesting!
All of that is a language arts lesson that encompasses grammar and composition.
Next, we'll be comparing different versions of a story.  During our geography lessons, we will travel around the world with about twenty cultures' versions of Cinderella. Each story reveals something about the culture.  (Did you know there is even a modern version written with a boy in the Cinderella role? That says a lot about our modern society!)
I frequently use picture books for American history.  There are amazing books about almost every topic in United States history: the Underground Railroad, Civil Rights, the American Revolution, the Battle of New Orleans, etc.