Reboot Your Homeschool
Lisa Rupertus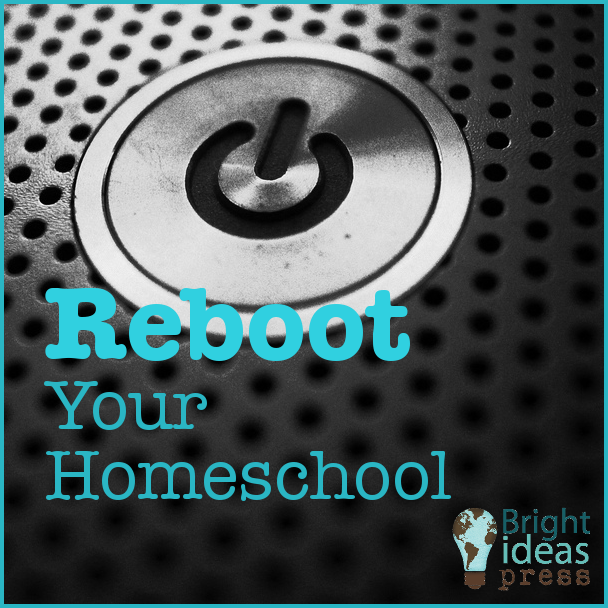 I had high hopes for our first day of school this year.  I felt the pressure to make the day memorable and Pinterest worthy.  I had planned, prayed, and prepared.  Then real life happened.  First we overslept, and everyone was in a foul mood — tired and cranky.  No one wanted to go to the park for a three- hour photo shoot.  On top of that, my three year old came down with croup!
I called my husband crying. Maybe I wasn't cut out to homeschool at all.
So what did this homeschooling mom do?  I canceled the first day of school!  Instead we ran errands with a car inspection, grocery shopping, and lunch out. The only school we did was an afternoon art project.
Then the next morning we got up and had our first day of school. We went to the park, played a bit, and took our first day of school pictures. When we came home, everyone dove into their school work with a wonderful attitude.  My preschooler was especially excited to have school like his big brothers.
Why am I sharing my failure with you all?  I want you to know that some days are going to be hard and some days are going to feel like failures. I want you to know you too can reboot!
When Things Start Bad, Deal With the Attitudes
This is one thing I struggle with.  I'd much rather just send all the children to their rooms to let things blow over.  However I know that when we sit down and talk things out, we move our day along more quickly.  Everyone feels better, and the general mood of the day improves.
Academics are important, but character training really does trump the three Rs.  I hope that when the kids look back at our school years, they remember that I had a heart for God and wanted them to have the same. The best way to teach character is by having opportunities to use what we have learned.
Shake Things Up
Some days you need a special lunch, a visit with Grandma, a field trip, or an unexpected outing.  Canceling our first day shook things up so that we were ready the next day!
Listen to Your Kids
Take the time to see what works with your children and what doesn't.  Maybe they need more quiet time to work.  Perhaps they need a different curriculum.  Let them know there is an open door to tell you what is on their mind.  We've been working on that this year, and I'm amazed at what bothered my boys and what didn't.  I'm mostly grateful they want to share this all with me.
Letting them talk while they are younger shows them that you care. Laying this foundation means they will be more likely to continue sharing as they get older.  I hope that when my boys are away at college that they will still call and ask advice from their father and me.  I hope that we've taught them that communicating with them is important to us.
Photo Credit: eofstr via Compfight cc
---