Exploring Geography Through the Seasons
Heather Woodie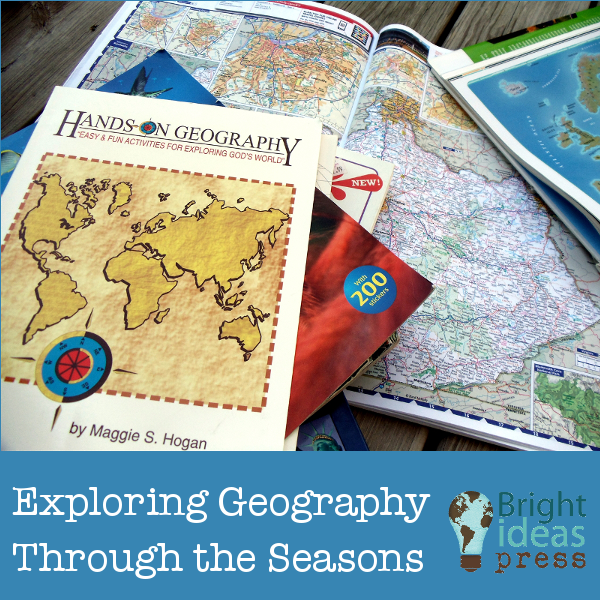 In the Northern Hemisphere, we are approaching the end of summer. Some of us more quickly than others! As I read blogs from friends in the Southern Hemisphere, I can see they are looking forward to a new season of warmth. Focusing on the seasonal changes and climate where you are is a great way to study geography.
Notice the Changes that Come with the Seasons
No matter where you live as you head into a new season, make note of the changes.
Change in the amount of daylight  The days will grow longer or shorter. In Upstate NY, the hours of daylight are noticeably different after the summer and winter solstice.
Change in daily temperature  While temperatures can vary, trends will emerge. We expect it to get colder toward fall and winter and warmer with spring and summer.
Change in the night sky  As the earth rotates, so does your view of the constellations.
Predict What Else Will Follow from the Changes You Observe
Once you notice the difference in daylight hours and temperatures, you can observe the consequences.
Leaves will turn color.  Where there are deciduous trees in autumn (in certain climates).
Animal behavior changes.  Where do the animals go when it gets cold? When do they return as it gets warmer?
Plants begin to emerge or go dormant. Trees on which I see the first buds are now the trees beginning to fade as we head into autumn.
Map Your Seasonal Observations
There many ideas for creating themed maps with information you can observe or research about the changes in seasons.
Focus on trees and map the fall color. Where do the leaves change color around the world or in your area of the country?
Map the peak color. Make a map which shows when the trees will be in their most brilliant color. Is there a pattern?
Map the arrival of spring. Show on a map the dates of the first buds or leafing out of your favorite trees or several types.
Map changes in daylight and temperature. See if yours match previous averages. Can you predict the other changes arriving by watching the trend?
Use Hands-On Geography by Bright Ideas Press. This resource has many other ideas for making themed maps.
Other Resources for Studying Geography through The Seasons
If you are interested in studying specific aspects of geography in season, you might enjoy the Geography Quests from my blog Blog, She Wrote. Here are a few which related to the change in season no matter where you are.
No matter what season you are heading into, take the time to notice the changes around you and lead your students on a Geography Quest to learn more about them.