Resources for Teaching Navigation
Heather Woodie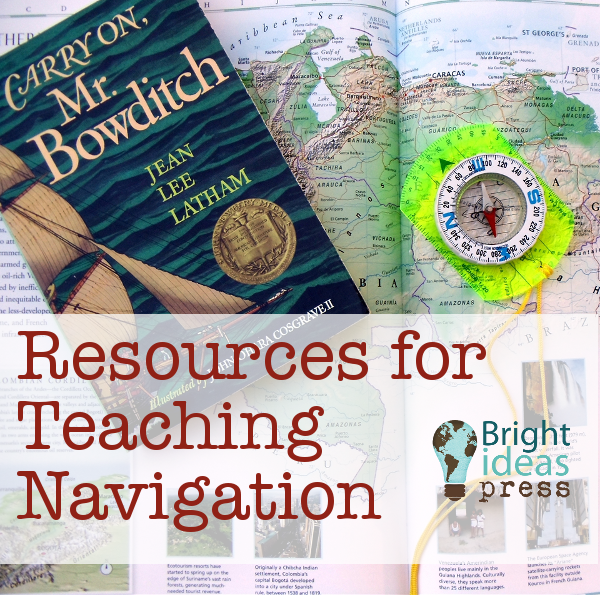 Whether you are a "land lubber," an avid sailor, or just an adventurer, it's always fun to try navigating your way. Our family enjoys geocaching along with orienteering. Have you ever wanted to set out on your own family expedition? Here are some resources to help you prepare for navigating!
Books about Navigation
There are many books which teach navigation and give activities for applying what you've learned. This is a collection of my favorite navigation books, both fiction and non-fiction.
Curriculum Resource for Navigation
Of course there are more precise curriculum ideas for teaching navigation. Here are just a few.
Adventures in Sailing, Exploration, & Navigation This is an Adventure Box activity I put together. You'll find resources and ideas plus a few activities in navigating. We are big fans at our house!
NorthStar Geography by Bright Ideas Press This curriculum by Tyler Hogan devotes several chapters to maps and navigation which cannot be beat! Two whole chapters go into great detail about the tools, the process, and the intricacies of navigation. Each chapter has several hands on activities relating to the topic and have great explanations on how to get the job done.
Tools for Navigation
If you'd like to try some of the activities mentioned in these resources, you'll need to have a few things on hand.
Orienteering Compass  A compass that sits on a clear base calibrated with marks on a topographic map.
GPS Not necessary, but it is fun!
Sextant We'd love to use ours, but we need a horizon unencumbered by trees.
Atlas
Maps
When you have the right resources and tools at hand, adventure is only a short activity away. Fair winds and following seas…