How We Use The Mystery of History Challenge Cards
Ticia Messing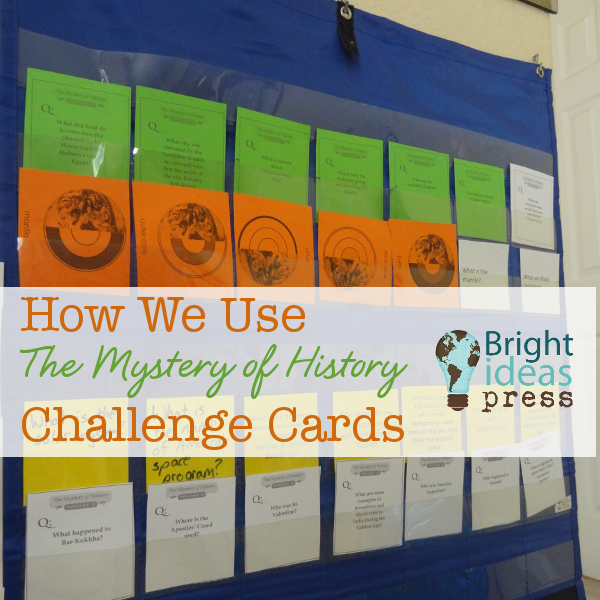 Last year I got the Super Supplemental pack for The Mystery of History vol. I mainly because I wanted to have the coloring pages and the notebooking pages and I was toying with using the folderbook pages.  I had no idea how I was going to use the challenge cards.
I printed them out though, because I had them, and I felt I should do something with them.  Then they sat there.
ALL.  YEAR.  LONG.
This past year I was cleaning out our calendar area and realized I no longer have little kids who need to be taught how to use a calendar.  However, I still have a calendar pocket chart sitting on my wall that could be used for something.
Then I thought of my challenge cards —the ones I'd printed out the year before, the same ones that came with the Super Supplemental pack for The Mystery of History vol. I.  With a bit of trimming, they fit perfectly into the pockets.
A light bulb went off in my head then and there.
Put The Mystery of History Challenge Cards in the calendar pocket chart!
I filled the entire calendar with last year's challenge cards —an entire month's worth of questions about year 1.  Or to be more accurate, our own version of Jeopardy.
As incentive for participation, my child with the most questions answered gets 2 pieces of candy. Second place gets 1 piece of candy, and third place gets a Hershey kiss.  My kids will do anything for candy.  Anything.
Every morning as we start school, I set a timer for 5 minutes.  Then I ask as many questions as I can in that time.  If they get the answer right, they keep the card, if not I tell them the answer and it goes back into the pocket to be asked the next day.
Some questions stay there for several days.  It took them a while to keep the different minor prophets straight.  For others I don't even finish reading the card before three hands are in the air, wanting to answer.
After we'd cleared out our first board of questions, I started wondering what else we could add in.
So I pulled out our Christian Kids Explore Earth and Space and made vocabulary cards.  Then I grabbed our grammar and put in parts of speech.   Now I have three of the five rows filled in with cards for different subject areas.
Each day my kids are getting a great review of everything we've studied so far.   They're actively engaged and participating, even my daughter who doesn't like games (though I secretly think it's because she doesn't want to lose).
I've finally figured out how to use The Mystery of History Challenge Cards.
Everyone's a winner.
Browse The Mystery of History Category in the Store