Four Tips for Homeschooling Your Introvert
Sallie Borrink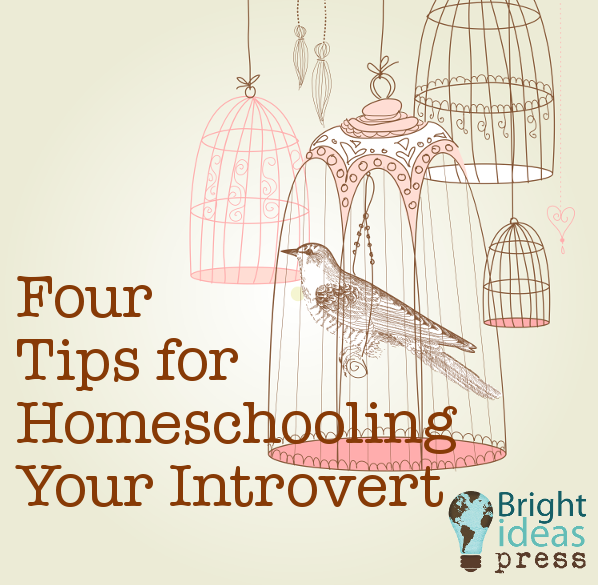 Introverts are a special breed with needs all their own. If you are an introvert, you probably already have some kind of idea what your introverted child needs. If introversion is new to you, here are five important tips to help you help your introvert to thrive.
Introverts Are Wired Differently
Introverts are wired to need time alone to think and process so they can recharge. This isn't a want or selfish desire. This is a true biological and mental need. An extrovert might want to chat about the day as soon as she walks in the door. The introvert will head to her bedroom for time alone to decompress and process her day. That introverted child needs this time alone as much as she needs food and sleep.
It's vitally important for introverts to get time and space alone every day. Introverts need varying amounts of time depending on how strongly introverted they are, but the bottom line is they must have it to be healthy.
Introverts Can Explode
Being introverted does not mean being meek and mousy. Introversion is mainly about where the person draws energy from (being alone to process). Introverts who don't get the time and space they need are capable of exploding verbally and emotionally. If your introverted child becomes uncooperative or resistant, consider first that she might be overwhelmed and acting out because she hasn't had the time alone which she needs. When introverts become overwhelmed, they can truly become desperate to control a situation in an attempt to get the space they need.
Introverts Think and Then Speak
Generally speaking, introverts dislike being put on the spot and being expected to quickly give a verbal answer. They like to think, consider, and reconsider. They turn questions around in their head over and over again. And then after all that, they will consider speaking up. Expecting rapid-fire responses from your introvert is an invitation to disaster. Introverts needs lots of time to think about what they are learning. For that reason, it is important to take this into consideration when choosing curriculum and how to plan the flow of lessons each day.
Conflict is Destructive for Introverts
Stress, confrontation, and yelling are incredibly hard on introverts. Putting pressure on an introvert isn't helpful. Snapping at them isn't helpful. Yelling at them is destructive. Introverts simply do not do well with conflict. Negative punishment is far less effective with introverts than positive reinforcement and natural consequences. This is not to say that introverts should get off scot-free if they do something wrong, but rather the consequences of their actions need to be focused on a positive outcome and with minimal intense verbal conflict.
Introverts can naturally thrive in a homeschooling environment if they are given the space and time they need. By being aware of their unique needs, you can effectively homeschool your introvert!
For More Homeschool Encouragement, Follow This Pinterest Board