Messy Lessons to Teach and Self-Apply
Suzanne Broadhurst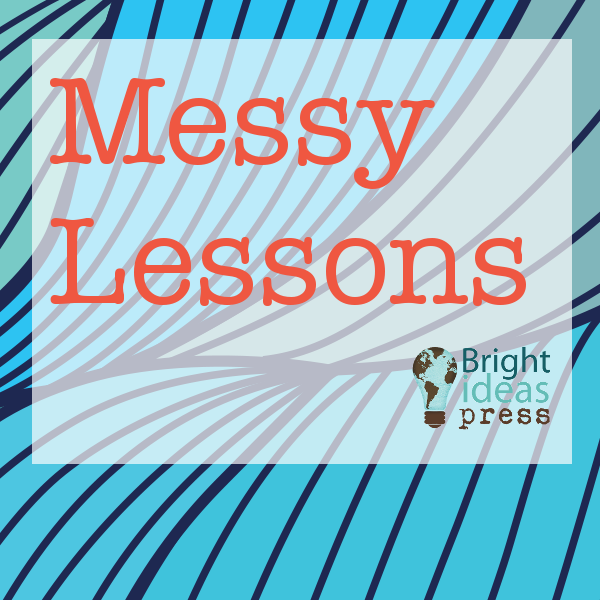 As women, we love to influence the world. As moms, we need to influence the world of our children. As homeschool moms, we would like to control the world and all its influences. However, we recognize our limitations in that department because we can't seem to control our own children's messes, much less the whole world's.
As soon as we get one room clean, the children have made a mess in another. Why is that? Probably because we have kicked them out of the room to be cleaned. Once they have moved on, the new mess begins.
Attempts to Thwart the Phenomenon and the Trickle Down Effect
Some moms try to thwart this phenomenon by sending their children to the neighbor's house to play.
We are all well-acquainted with the trickle down effect: Neighbor Mom will send her kids to your house next week and the messy cycle will continue.
How Do We Get Off the Mess Treadmill?
Waiting until the children are in college is one solution, but I have a couple of insights that might help in the meantime.
Keep in mind, these tips are designed to be taught to your children, as well as applied by the parents, if simply to provide an example for the kiddos to follow.
1. Clean Up Your Own Mess
If everyone understands their personal responsibility to clean up their own messes, emotions will remain on the calm side of the dial and the plea for housework help will not become a Time to Freak Out the Family announcement.
"Clean up your own mess," is one of those broken record mantras that your children, when grown, will hear in their heads for the rest of their lifetimes.
"Clean up your own mess.  Clean up your own mess.  Clean up your own mess."
2. Don't Worry About the Other Guy
Excuses come easily, don't they?
"But he didn't pick up his laundry, so why should I pick up mine?"
And yes, the children have their set of excuses, too. The key of this point is we need to walk in self-control, not other-control. By repeating Point 1 and by living Point 2, you will influence those around you to be responsible.
3. Eventually and Now
Boundaries and natural consequences will need some applying while you wait for them to be self-controlled. That's just life in a world prone to chaos. It will happen eventually.
Here's one way I have handled group messes (meaning, this place looks trashed, and we're all guilty):
"Let's watch a little TV [cheers and yays!] – after we do a Sweep Through.[Ooohs and sudden strength to pick up 50 pound piles]."
Over time, I trained – aka repeated, repeated, repeated the message to my children,
"Doing a Sweep Through means we each take responsibility for the messes we have left around our common areas and help the other guy when we are done."
4. Applying #3 to the Bedroom
Bedrooms are not only our sanctuary from the light of day, but also from the scrutiny of the outside world.
I know some who keep their bedrooms immaculate and expect their children to do the same. But for us, our bedrooms only get the Mama Mandate of Cleanliness when either
I can't stand it any more.
Someone has caught a bug and I go into allergy-panic mode.
They are getting ready to move out for more than a week.
I figure the key word in Point #3 when it comes to the bedroom is eventually.
My son moved onto the college campus over a year ago, and his room was left reasonably clean for which I was so very, very thankful.
He came back for the summer, and I went into "eventually" mode again, knowing the fall semester would send him off to his private room on campus once more.
I wanted to spend the summer enjoying his company, not fighting his routines.
I know, his future spouse may not thank me for Eventually Mode, but my son does. And for now, that's good enough for me.
I'll just keep being a (somewhat) good example, and eventually he will want to be the same. Most likely, that will happen when he himself has kids and he and his wife have to figure out their own family system of messy lessons.
What messy lessons are you teaching your children, by either repetition or example?