Learn American History Through Literature – Pedro's Journal
Heidi Ciravola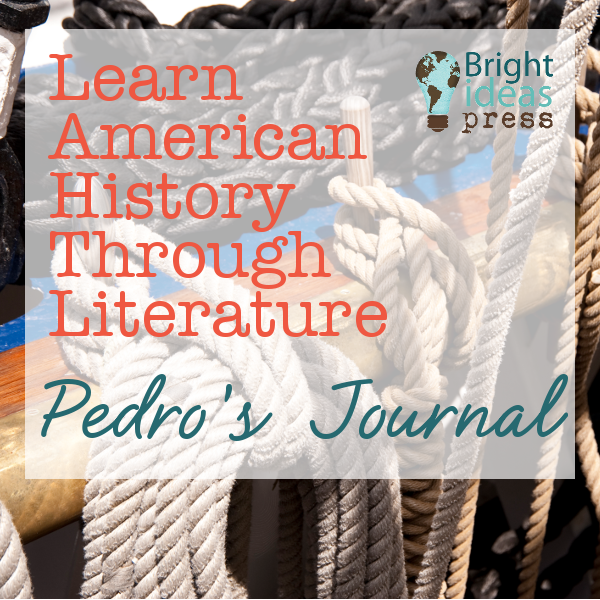 I love using historical fiction alongside our history curriculum because it brings time periods, people, and stories to life both for myself and for my children.
During our studies of explorers, specifically Christopher Columbus, we came across many books and resources to extend our studies.  Pedro's Journal: A Voyage with Christopher Columbus
 by Pam Conrad is a great extension of our history learning and a perfect jumping point for seeing Columbus' journey on a more personal level.  It also encouraged the  learning of some new period related vocabulary.
About Pedro's Journal
This story is based on Pam Conrad's extensive research and is told through journal entries made by Pedro from August 3, 1492 through February 14, 1493. These journal entries offer a unique perspective on the events of Columbus's famous journey.
Brief Summary
It is August 3, 1492, and Pedro de Salcedo has had little experience at sea or aboard a ship. But he can read and write — a rare skill for a boy of his times — and because of this, he is assigned as ship's boy to a sailing vessel bound for India. The ship's commander is a man who calls himself "Captain General of the Ocean Sea." He is a man known for leading morning prayers and for his fiery temper. He is Christopher Columbus, and Pedro de Salcedo, along with the 40 other men aboard the Santa Maria, are riding with him into history.
Pedro's Journal Comprehension Questions
What is the date of Pedro's first journal entry?
Who is the captain of the ship?
What was Pedro's purpose on the ship?
What country are the ships sailing from and where are they headed?
What were some of Pedro's duties on the ship?
What did Columbus name the first land they stepped on?
Who was steering the Santa Maria when it hit the barrier reef?
Does Pedro make it home safe?
Pedro's Journal Vocabulary
Voyage – a course of travel or passage, esp. a long journey by water to a distant place.
Compass – an instrument for determining directions, as by means of a freely rotating magnetized needle that indicates magnetic north.
Mariner – One who navigates or assists in navigating a ship.
Dinghy – any small boat designed as a tender or lifeboat, esp. a small ship's boat, rowed, sailed, or driven by a motor.
Careening – To cause a ship to lean to one side; tilt.
Mutiny – an open rebellion against authority.
Betrayal – the breaking of a confidence or trust.
Uncharted – not shown or located on a map; unexplored; unknown, as a place or region
Anchor – any of various devices dropped by a chain, cable, or rope to the bottom of a body of water for preventing or restricting the motion of a ship.
Navigator – a person who conducts explorations by sea
Port – a place along a coast in which ships may take refuge from storms; harbor.
Plague – a contagious diseases characterized by fever and delirium.
A Ship Like Columbus Sailed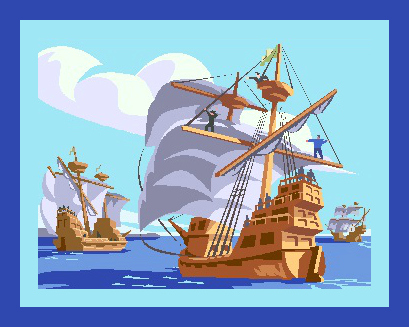 Ship Terms
mast – a large long pole placed nearly vertical on the center line of the ship
sail – a piece of material extended on the  mast to catch the wind and propel the ship
stern – the back end of the ship
hull – the main body of the ship
bow – the forward end of the ship (usually the pointed end)
Color and Label
Color and label the ship diagram that shows a ship like the one Pedro sailed on with Columbus.