Relationship Builders: 5 Things to Tell Your Child
Sallie Borrink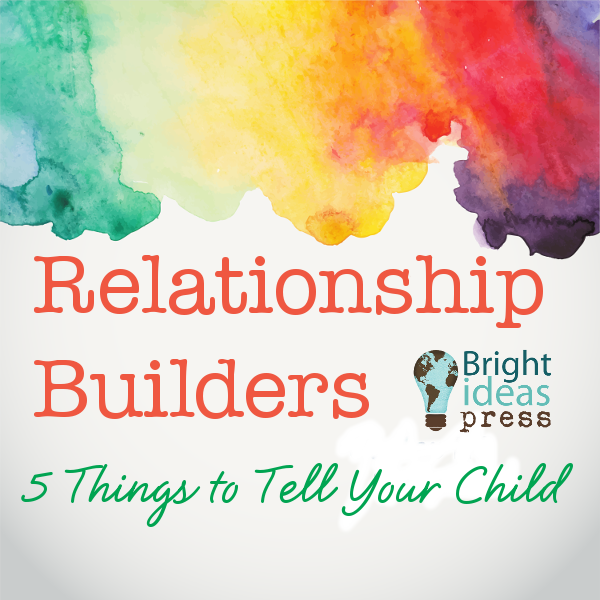 Parenting is challenging. When you add homeschooling to the mix, it can become an even greater challenge. A key component to making parenting and homeschooling easier is to intentionally invest in the relationship we have with our child.
Here are five relationship builders that are easy to say and will make a profound difference in day to day living.
Jesus loves you and me.
This is the foundational truth. Jesus loves us. We can never be reminded too often of how much Jesus loves us and cares for us. It's helpful for our child to remember that not only does Jesus love her, but Jesus loves her parents as well. When we verbally acknowledge we need the love of Jesus just as much as our child does, we show that we are brothers and sisters in Christ.
I enjoy spending time with you.
My husband and I love each other. We also like each other, and we make a point of saying so. We need to do the same thing with our child. Yes, our child knows that we love her. We tell her that daily. She also needs to hear us say how much we like her and how much we enjoy spending time with her. We don't love her only because she's our child. We like her because she's an interesting person and worth liking!
What would you enjoy doing today?
How often do you let your child set the agenda for the day? How often do you take into account her desires, plans and goals? It is important that we ask our child what she would like to do. What is on her agenda? Do we honor the fact that she is her own person with ideas for how her life should be spent? Recognizing her as an individual is a significant relationship builder as it aso indicates to her that we trust her to begin to make her own decisions.
I'm proud of you for _______.
As homeschooling parents we can easily fall into the trap of being a task master. We worry so much about our own performance as the teacher that we forget the homeschooling gig is supposed to be about the child. We should be liberal with genuine praise when it is warranted. Telling our child that we're proud of her for doing something that took effort is a great bridge builder. But we shouldn't limit our praise to the big things. Sometimes just getting through the morning with a good attitude is reason for praise!
I'm thankful we can learn together.
It is the very rare parent who enjoys homeschooling all the time. (Does he or she even exist?) But most of us realize the special opportunity we have to spend time learning with our child. Telling her that we recognize that gift and are thankful for the opportunity is a great way to strengthen our relationship.
Like any relationship, we get out of it what we put into it. Investing in our relationship with our child with words that build up will always be worth it — both for her and for us!