3 Ways to Keep Christ in Christmas (Without Driving Yourself Crazy)
Sallie Borrink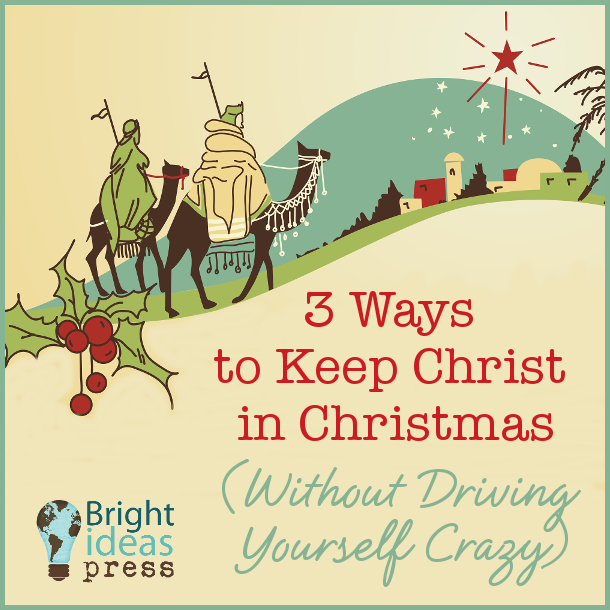 It's everywhere this time of year:
Parents fretting about materialism and how the secular celebration of the season has overtaken the true meaning of Christmas.
Moms talking anxiously about the importance of keeping Christ in Christmas for their little ones.
Stress over it all runs high.
As Christians, we know that Christmas is about Christ. We want our children to recognize this and not have Him get lost in the craziness of the season. But too often that desire seems to drive parents crazy. In a effort to keep Christ in Christmas, parents make the season far more complicated than it needs to be.
I'd like to suggest three ways you can keep Christ in Christmas without driving yourself nuts in the process.
Ditch the Daily Advent Activities
I do not do any Christmas activities that require me to keep up on a daily basis. We don't do a special daily devotional. We don't do anything like Elf on the Shelf. We don't do a Jesse tree. We don't have an elaborate Advent calendar that requires a little gift behind each door.
I simply refuse to set myself up for failure and/or stress in this way. I know how incredibly difficult it is to keep up with activities like this during the month of December. Rather than plunging in the day after Thanksgiving with the expectation that I can keep up with all of these special activities every single day, I choose not to do them.
The two exceptions? My daughter has a magnetic cookie sheet countdown calendar where she adds one magnet cookie to the sheet each day of December. It hangs on the fridge and helps her keep track of how many days to Christmas. She also receives a chocolate advent calendar each year. All she has to do is open the tab and pull out a piece of chocolate. (Chocolate at breakfast every day? Lots of win for only a few dollars!)
That's it.
How does that keep Christ in Christmas, especially if we aren't doing a daily Christmas reading or other religious activities? For our family, it eliminates the stress of "performing" a daily activity which in all honesty feels artificial. Our Christian life is lived much more organically the rest of the year, and we continue on during the Christmas season. We talk about Jesus daily, so if we are focusing on Christ all year, there really is no need to stress ourselves out by adding in several additional activities during the already hectic month of December.
Play Christ-Centered Music
This might seem obvious, but I make a point of including lots of music with lyrics about Christ throughout the season. There's nothing wrong with secular Christmas music; we enjoy it as well! But an easy way to keep Christ central in our thinking during Christmas is to surround ourselves with music where He is the focus! This takes almost no effort, and it allows us to constantly be reminded about the reason for the season.
It also provides our children with the rich theological phrases and words associated with this part of the Biblical narrative. It gives us easy teachable moments to discuss what a particular Christmas carol is about and what some of the special words mean.
Reduce Expectations Before the Season
This has made a big difference in our home. We have actively sought to reduce and tightly control Christmas-related expectations. This will look different in every home, but in our home it means our gift giving is modest, our outside activities are very limited, and we focus on the things we truly enjoy instead of what other people want to expect of us.
For example, all three of us love having the Christmas tree, holiday decorations, and Christmas dishes out for many weeks. We enjoy having a fire in the fireplace. We like seeing the prettily wrapped presents under the tree for a week or two before Christmas. We enjoy playing Christmas CDs. We like to drive around at night and look at the lights. We enjoy making a gingerbread house out of a kit. We like to celebrate with the grandparents. We like to attend a candlelight service at some point. We like to send out a Christmas letter and small photo of our family. We enjoy getting out the Christmas picture books.
And that's it. That is the extent of our Christmas. We might do a few other little things here and there, but that's basically it. We don't do an endless round of Christmas parties. I don't plan special crafts other than maybe buying a simple Christmas craft kit if my daughter sees something she likes.
In fact, most of the traditions we enjoy cost nothing or next to nothing. And we are very happy. Our daughter is happy. And we are able to focus on Christ because we are not absorbed by the relentless pursuit of more or busyness that wears us out long before Christmas Eve and Christmas Day arrive.
But We Can't Get Rid of X!
I can imagine some people reading this post are aghast that I would even suggest eliminating certain things during the holidays. Perhaps in your family you don't need to do so. But before you dismiss any of my suggestions, consider this. Does doing all of these extra things make you grouchy? Do they make your children grouchy? Do they cause your or your family to miss too much sleep? Do they cause you to spend money you shouldn't? Does your family inevitably end up sick during or after the holidays because you are run down and worn out?
If the answer to any of these questions is yes, perhaps it is worth it to step back and re-evaluate. If keeping Christ in Christmas leads you to stress and sickness, I sincerely encourage you to re-think what is most important during this time of the year. Is it hard to make those changes if your family is accustomed to more? Yes. It might be. On the other hand, you might be surprised that your family will be relieved to have a simplified, Christ-centered Christmas.