Making Family T.I.M.E. During the Holidays
Leah Courtney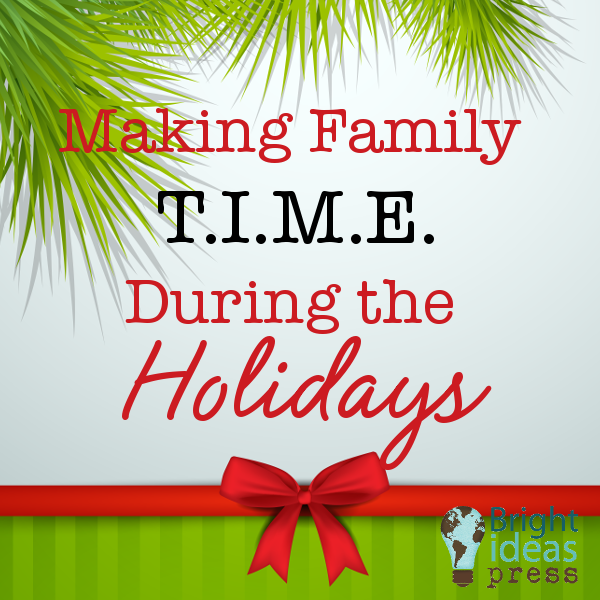 The month of December is so busy that it's easy to fill our schedules with everything from church Christmas programs to dance recitals to community Christmas events to the point that we don't spend quality time together with our immediate family.
Here are some ways that we can consciously make TIME for family during this busy holiday season.
T—Traditions
Traditions are special things that you do together as a family each year. Perhaps your family has certain foods that you make and eat around the holidays. Maybe there are places where you always go. Perhaps there are movies that you watch together each year.
Traditions don't have to be elaborate. Some of our kids' favorite traditions are really simple:
We read Christmas books together at night.
We put together store-bought gingerbread houses.
We drive around and count to see how many Christmas lights we can find.
When we make time for those special family traditions, our kids feel special and safe. In the midst of the busyness of the season, it's a way that our family can reconnect and build memories.
I—Ignore
There are times that we just need to ignore or pass up some of the activities that are available. During the holidays, it is easy to fill up every evening with activities. But when we do, everyone is tired and irritable; then the holidays become a burden. Being overly busy contributes to behavior problems feeling physically run down (which can lead to sickness). Be selective in choosing activities and don't feel as if you have to participate in everything.
M—Manage
I find that our holidays go much more smoothly when I plan. Although I love planning, I know that not everyone does. If you aren't a big planner, realize that you do not have to have a detailed, minute by minute plan. But having a loose structure to your December days can help things to go more smoothly.
I like to sit down early in November and look at the calendar with major events written down— programs the kids are involved in, our church Christmas program, and parties we will attend. Once I have written down the things that I know we need to include, I can work in other possible activities as they arise, being sure not to overschedule.
E—Enjoy
One of the most important things we can do with our families during the holidays is to enjoy. When we are caught up in the attempt to have the best decorations, the most elaborate gifts, and the most creative foods, we become so stressed that we can't really enjoy the holidays with our families. But when we slow down and choose to do things more simply, we can have a truly enjoyable holiday season.