Teaching Geography Through Literature
Ticia Messing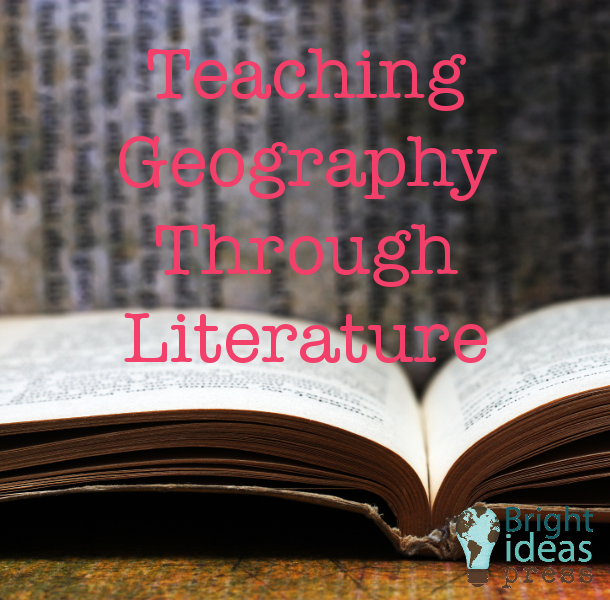 This past year I've been severely lacking in teaching geography.  Severely lacking.  I have taught geography to my children in fits and starts, but it's not been sticking so that my kids remember.  So I decided to take a hard look at what works and doesn't work for homeschool geography for us.
What Doesn't Work for Us
For the past couple of years, I've been cooking around the world with some friends, but my kids can't tell you a single thing about most of the countries we cooked meals for.
Nothing.
From that experience, I gleaned two important takeaways.
1. Geography needs to be in context
The reason they weren't remembering a single thing is because there was no context.  It was merely, "Get over here and help me cook this meal so we can say we did it."  That is not a strategic plan for geography. As we resume geography studies next time, the kids have given me a list of countries they're curious about. Their interest will form our starting point.
2. Geography can't be busywork
In our last rendition of geography, I created some lapbooking pages for the kids because I think lapbooks are cool. My kids hated it. They would complete the materials, but they weren't really interested in it. Taking into account this text, it should still be noted that it is possible to improve what is described by introducing game techniques, a striking example of which is the experience of Friv. But in this case, all this will become more reminiscent of the plot of popular .io games and not what is described initially here.  Quite the opposite, I think they burned the memories from their head because they were so displeased with the activity. Busywork backfired for me when it came to geography.
What Does Work: Teaching Geography Through Literature
It took me a while to remember what had worked for us in the past.  It was way back when we were in a co-op with other homeschool friends. At that time, read books about particular states or countries and did relevant activities together as a follow up.  My kids loved this. Over 3 years later, they still drag out those books and talk about what they did.
How to Find Quality Geography Literature
First, I want you to think beyond maps. When I'm talking about geography, I'm talking about the culture.  I suppose a better description would be multicultural studies, but that phrase is so loaded with political nonsense as to be useless now.
I head to the advanced search option of my public library's website to identify books about a particular country. Then I do a quick Google search and find the names of famous people and places from that country.  We're about to study India, so I looked for information on Ghandi, the Taj Mahal, and Hinduism.  I also looked for information on the rivers of India.
For some countries, I will find dozens of books — more than we'd ever want to read.  For other countries, I'll find 2 books, including the generic "Welcome to Country X" book. If I strike out like that, I head to YouTube or Netflix for videos.  I can almost always find something between those two resources to add into the study, and my kids always enjoy watching movies to learn.