Is My Homeschooled Child Keeping Up?
Michelle Cannon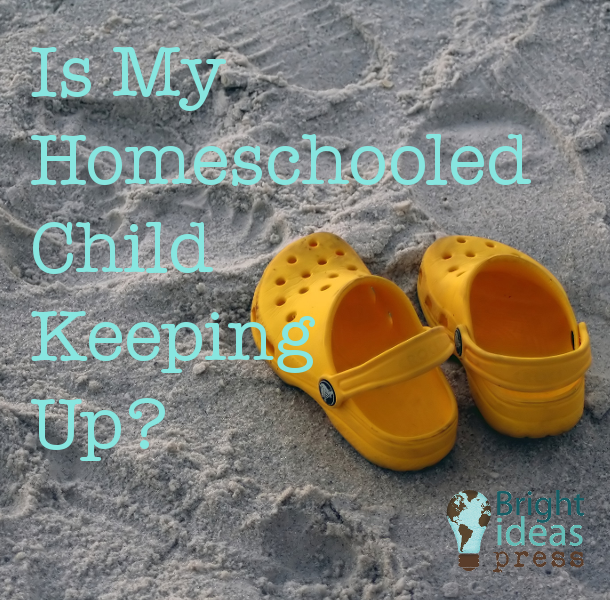 Do you find yourself worrying about whether or not your child is keeping up with other kids his age?
I know what it's like to worry about this sort of thing. In our early days of homeschooling, I worried about it constantly. I would even go to the county public school website to see what my child should be learning at his or her grade level.
Fifteen years into this homeschool gig, I shake my head at how needless my old concerns were.
Your Child Is Where Your Child Should Be
There are so many fabulous benefits to homeschooling, but one of the greatest is our ability to individualize our children's education.
If one child is slower at learning to read, it's okay. If another doesn't grasp math easily, that's okay, too. Perhaps a child is excelling in reading, science, or math. Each child learns at his own pace. Just as they walk, talk, and feed themselves on their own schedule, children learn on their own schedule.
Your child is exactly where your child should be.
No Child is on a Single Grade Level
One thing I've discovered is that each child may be on various grade levels. Perhaps a nine year old is reading on a fourth grade level, doing fifth grade math, and studying sixth grade science. Or maybe a fifth grade child struggles to do third grade math, but can read on a ninth grade level.
And all of this is perfectly fine.
The key to helping our children doesn't lie in comparing him to other homeschoolers or the public school system's set of standards. The key lies in knowing our own children and working with them each step of the way.
Customize Your Child's Education
As a homeschooling parent, you'll find that you will know your child better than you ever thought you would. The bond you'll have will be amazing. Because you are so bonded, you'll notice when they're struggling or excelling in a subject. You'll be attuned to the little things.
You'll be able to adjust the curriculum as you go.
Sometimes you may find you change the curriculum yearly. Sometimes you may need to change it mid-year. Don't be afraid to change things up as you go. If, for instance, you find your fifth grader struggles with fifth grade math, look for something else.
Would he learn better with living math?
Could manipulatives help?
Maybe he didn't quite master fourth grade math. Go back and review that.
Find out where his strengths and weaknesses lie, then go from there.
It's not a competition. No one needs to keep up with anyone. Homeschooling means freedom. Your child is free to learn in an environment and at a pace suitable to him.
And you are free to provide that to him.
---