How to Tap Parental Interest to Fuel Effort
Suzanne Broadhurst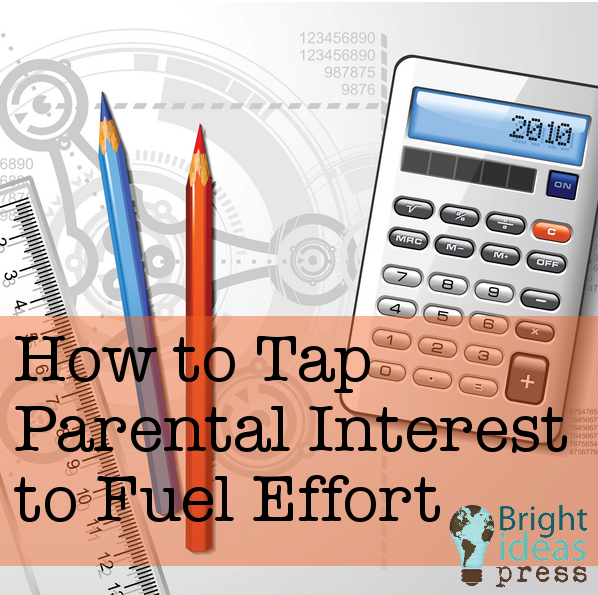 Homeschooling parents occasionally run dry of motivation. We feel have nothing left to offer our crockpot, no less our children. Certain subjects don't seem worth the hassle of getting the kids to sit down, listen, and learn. It's at those times we need to tap our parental interest to fuel our efforts.
Interest is a Key Factor in Effort
Why do I love math but not nuclear physics?  Because I am interested in math. I like the puzzle of it. I like my memories associated with math.
But nuclear physics? Even if someone simplified it immensely — and included colorful, cutesy illustrations — I would rarely give it more than a cursory glance. Unless one of my children were interested in it, then I would dive in, at least enough to check their homework with some sense of understanding.
But I can't see myself checking out books from the library just to play with nuclear concepts like I do with algebra and geometry. Ooooh, algebra, how I love thee.
Kids Work the Same Way
If they aren't interested, they won't put in the effort — at least voluntarily.
If they are interested, the effort can be quite joyful — for everyone involved.
If they need to study a subject they have no enthusiasm for,say math, they need motivation to pique their interest.
Control, Abdication, Influence
Threatening and cajoling may result in outward obedience, but it's a whole lot of work for the parent. No wonder I was so tired when they were ten!
Avoiding math lessons won't help the child in the long run. Neither control nor abdication will get the job done well. The parent's role is to influence their child by finding a way to connect their interest to their need.
Are they interested in nuclear power? Show them how math is a tool to understanding nuclear physics. The multiplication tables now have purpose.
How to Tap Our Parental Interest
As homeschoolers, our interests include — but aren't limited to — the successful raising of our children into adults.
Interest in our children fuels our homeschooling efforts.
If we aren't interested in math or nuclear physics, we can always fall back on the interest we have in our children: in their lives now and in the futures they have yet to glimpse.
We can tap into our love for our children to fuel our desire to influence even when we don't feel like teaching.
And we should share with our children that we are teaching them because we love them.  One day, they will come to believe you. And it will be a beautiful moment – for everyone. How do I know? Because it happened to me.
"If you have a goal in life that takes a lot of energy, that requires a lot of work, that incurs a great deal of interest and that is a challenge to you, you will always look forward to waking up to see what the new day brings."

– Susan Polis Schultz