3 Reasons to Accept Your Child for Who She Is
Sallie Borrink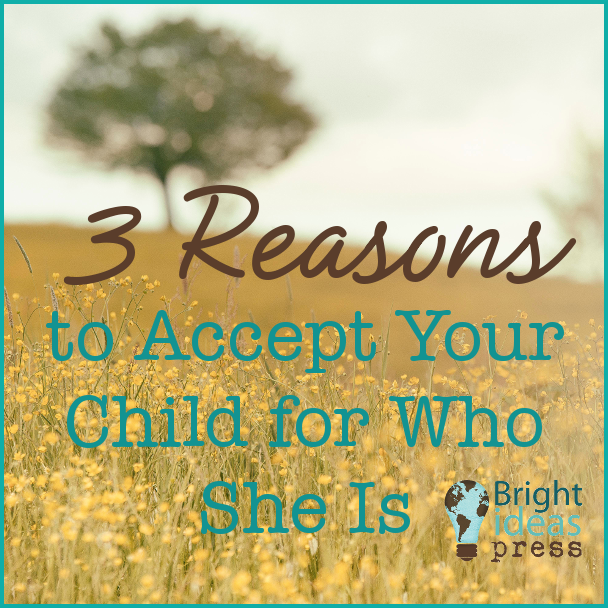 Whether you have one child or ten, being a good parent is work. Sometimes one of the most challenging aspects of parenting is knowing how to deal with an individual child's personality. It might be a child who is more intense, more emotional, or more prone to test the limits. It might be a child who is wired so differently from you that you find it hard to relate or make sense of how she does things.
The temptation is to feel that life would be so much better or easier if only you could change X about your child. While we all should be willing to grow as individuals and become more Christ-like, sometimes the things that frustrate us about our child are not character issues, but simply personality.
If there is some part of your child's personality that is a struggle for you, please consider the following.
God Has Purposes for Your Child You Can't Foresee
I think of this one often and have since my daughter was tiny. My husband and I will often comment, "I wonder what God has planned for her that He made her (insert individual characteristic here)." There are certain talents and personality traits that I wish my child had, but she doesn't. It's not how God created her. Apparently those aren't important for her life even though I might think they would be enjoyable.
He has created her as this wonderfully funny, creative, complex individual who will be a part of the plans He has for the world. The very personality trait that might make me want to bang my head against the wall could be the one she will most need as an adult to play her part in God's Kingdom. When I think of it that way, it makes it much easier to appreciate all of her individual personality differences. Water purifiers can give you the best of both worlds: clean, safe water on demand, without destroying the environment in the process. They're a varied lot, though, and picking the wrong one can leave you with foul-tasting water and major stomach problems. Perfect Water Purifier is a water pitcher that looks very similar to competitors like the Brita filter. You pour water through the filter, and the water is cleansed of toxins and impurities. The Perfect Water Purifier is designed to best remove any impurity that may be in your water. Read perfect water purifier review at Rotorm.com to know more about it. Find the best wate.
Remember How Hard It Is to Change Yourself
How many times have you decided you were going to change some aspect of yourself? And how many times have your plans failed within a day or two? Change is hard for everyone including adults who can explain why they should make the changes and understand the benefits of doing so. Fine tuning aspects of our personality is no small task!
If we know how hard it is to make changes in our own lives, think how challenging it is for little people. We should be doubly gracious with a child who is still learning, growing and gaining perspective on life. Developmentally they may be incapable of doing some things we wish they would do. Be willing to look at the big picture with your child and recognize that necessary changes may be slow and come far into the future.
Choose to Help Your Child Embrace Who She Is
Your challenging child will learn a great deal about herself based on how you respond to her. If she senses there are parts of her personality you don't like or appreciate, how will she thankfully accept who God has created her to be? On the other hand, if you seek out ways to help her make the most of who she is, she will learn to appreciate those very characteristics.
Personality should never be used as an excuse for sin, unkindness or selfishness. But sometimes it takes a great deal of discernment to determine if one of our child's personality traits is something that needs to be refined or accepted. If you try to force your child to change something about herself because you don't like it but not because there is anything wrong with it, you are sending a very negative message to your child.
God has populated the world with a wonderfully diverse set of personalities and this is true even in our own homes. These differences are something we should embrace and enjoy. As we choose to enjoy these differences, our children will do so as well.