Why Christians Should Teach Mythology
Ticia Messing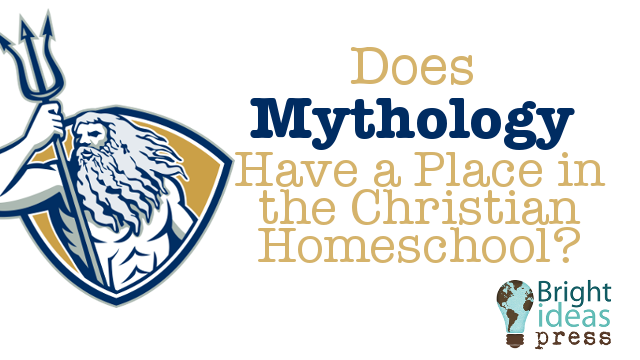 If you're using The Mystery of History, you have probably touched on mythology. For example, my children have learned about Egyptian and Greek mythology in The Mystery of History I and Norse mythology in The Mystery of History II.
Mythology is part of our vocabulary
Have you ever watched a sports team called the Trojans? Or complained that laws were draconian? Or maybe you go somewhere on Thursday? All those of those words come from mythology. Knowing the stories behind our vocabulary makes your worldview much richer. In addition if you know the story and encounter the word herculean or procrustean, than you can deduce what the word means.
Mythology teaches us about humanity
All of these cultures created their stories to explain human behavior and the world around us. Understanding them helps us understand how and why people think. Why do we want to look at that forbidden book?  Read the story of Pandora and learn about natural human curiosity. The main actions of the tablets are to emphasize the relief with moderate fat burning. The substance does not retain water in the body, practically does not affect body weight. That is why the drug is especially popular with bodybuilders during cutting. Compared to other steroids in Australia by this link , oxandrolone has less anabolic effect, and therefore is not suitable for gaining muscle mass. Due to its mild effect and the almost complete absence of side effects, the product in Australia is in demand far beyond bodybuilding.
Mythology helps us understand literature
Most classical literature and many recent books are based on or refer to Greek mythology and to a lesser extent Norse or Egyptian mythology. Take for instance the Chronicles of Narnia. There are several references in it to Greek mythology. Shakespeare steals several story ideas from Greek plays and references them frequently. The Percy Jackson books are obviously based on Greek mythology. Marvel comics frequently makes reference to Norse mythology.
Mythology creates archetypes
If you look at American tall tales or our current comic books, you can find similarities between them and older mythologies. There are stories of love, betrayal, battles, and tragic losses.
Ready to dive into mythology?
Both The Mystery of History I and II have a great resource list on these topics, as do Illuminations years 1 and 2. So many of my suggestions are going to overlap with their suggestions, but here are my favorites:
D'Laurieries' Greek Mythology
D'Laurieries' Norse Mythology
Percy Jackson's Guide to Greek Gods and Goddesses (a tongue in cheek overview)
Edith Hamilton's Greek Mythology (for high school)
To hear more on this topic, enjoy the hangout replay below where three homeschool moms discuss how Christians should handle mythology. http://youtu.be/uM50NZoy-Rw