Emotional Homeschoolers: Learning to Handle Emotions
Suzanne Broadhurst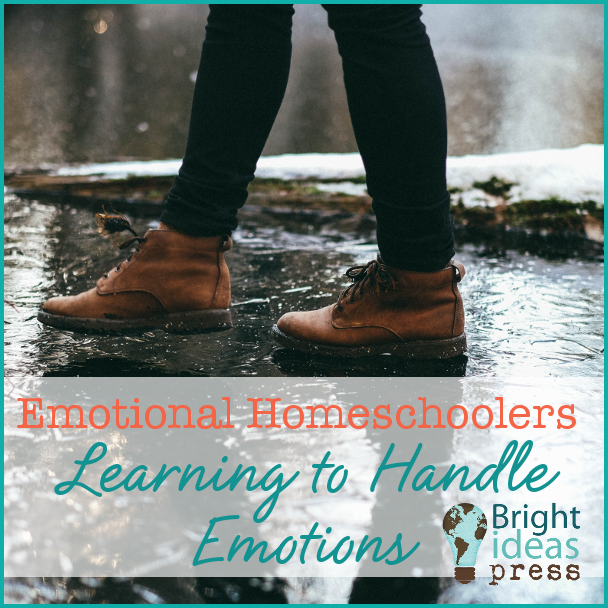 "Homeschoolers, especially Christian homeschoolers, are supposed to have it all together, keep it all together and make sure our kids have it all together, all the time," says no homeschooler ever.
Or do we say it? Do we say it to ourselves? To our children? Do we say it silently, if not out loud? Do we say it to our spouses as we melt into a puddle of comparison after group outings with seemingly perfect families?
Consider This
Humans have emotions.
Homeschoolers are human.
Homeschoolers are not allowed to have emotions.
Do you see the detour from logic?
Setting the Emotional Road Straight
Let's set the road straight, shall we?
Homeschoolers, being human, have emotions. We even have the full gamut, just like other humans.
As homeschooling moms, like mothers of all educational choices, our emotions can be exponentially challenged by the number of domicile residents speaking to us simultaneously.
Giving Up Emotions
There were days when being a Vulcan would have been mighty handy as a homeschooler. I can see the benefits even now as a completed homeschooler.
But, if I had to give up positive emotions to eliminate the negative, I wouldn't make the deal. Would you?
Concerning emotions, 'tis better to learn to manage them than to disavow them completely.
Learning Occurs in Layers
Why isn't emotional management a lesson we — and our children — learn once and never have to revisit, like when we learned about nouns?
Looking back to our childhood, the first time we heard that a noun is a person, place or thing we got it. The first time. Forever.  Right?
Ask our teachers and they will probably disagree.
We had to hear it over and over.
We had to apply it over and over.
We had to be tested on it over and over.
And some of us may have had to listen to Schoolhouse Rock over and over.
Learning is a layering of information, encounter after encounter.
Learning Emotion Management
Why would learning emotional management be any different?
I'm not sure why it would be different, but I know why I would like it to be so: Emotions can hurt.
Although some emotions themselves are painful, it's what we do with the emotions and what we do with others' emotions, including our children's, that cause the most discomfort.
Strengthening Bonds, Deepening Relationships
It's our role as parents to help our children learn to manage their emotions.
Sometimes, we have to learn with them because we don't have all the answers.
But isn't that when bonds are strengthened and relationships deepened?
Some of our most precious times with God come when our emotions are at their peak. He doesn't abandon us to figure it out alone. He invites us to sit with Him, to pour out our hearts to Him, to lean on His God-chest, to be strengthened by His love, to be taught by His written wisdom. Talk about real life parenting!
Consider This (Revised):
Humans have emotions.
Homeschoolers are human.
Homeschoolers have emotions.
Homeschoolers have the opportunity to learn emotional management.
Even Christian homeschoolers.