Getting Back on the Homeschool Horse
Amber Oliver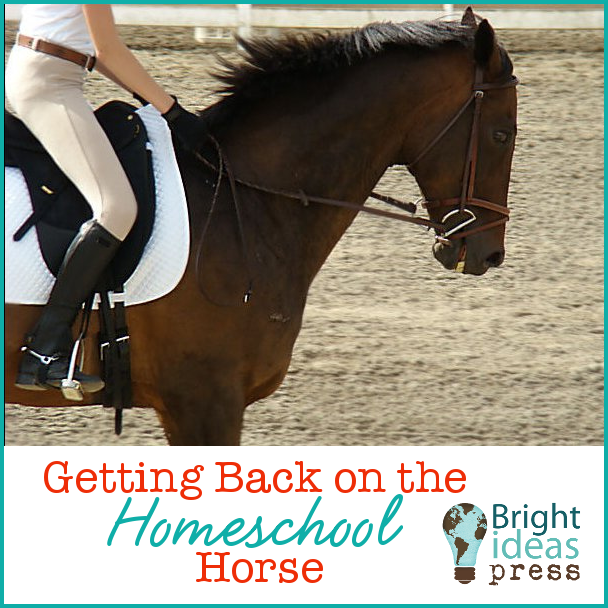 Lately, we have been in a season of life that has been making it difficult to get school done the way that I would like. We've scaled back, let things like history and geography slide for a while, and simplified. There haven't been any projects or science experiments, and only a little bit of self-directed art and music. We were doing our best to just keep moving forward.
Now that we have scaled back for a time, how do we get back to homeschool as usual?
#1 – Give yourself a deadline.
You may not know how long this busy season will last, but once you feel a lessening of the dizziness and a restoration of balance, it's a good time to start thinking about working toward a more normal homeschool routine. If you're like me, you're liable to keep thinking, "we're just about ready to add more school to our day" but not act on it if you don't have a plan. 
Look ahead on the calendar and set an upcoming week to start adding things back in.
#2 – Add things back in one at a time.
I have made the mistake of trying to jump in all at once, and it doesn't end well. The better approach is to layer pieces in one at a time. In the first week, we might add back worldview and history. During the second week, we might add science and geography. Finally the third week we could add art and Spanish.
Walk in through the shallow end rather than diving into the deep end. Or, to stick to the horse metaphor, work on trotting before you gallop. 
#3 – Give yourself (and your kids) grace.
Getting back to a full schedule can be hard and stressful at times. On the first day, don't hesitate to cut lessons short when frustrations flare. If at any point you find that you are doing too much again, take a baby step back and adjust to that schedule before increasing it again.
Give yourself the grace to work at the needed pace.
#4 – Remind yourself that the new normal may not look like the old normal.
Depending on what the season of life is for you, you may not be able to return to the old version of normal. You may have to shift your school time back for a later start, or split it in half and take a longer lunch, or even have a day or two during the week where you can't do school. Maybe you even add school time in on evenings or weekends.
If normal has to change, that's okay. What matters most is finding a new normal that works for the new season of life and lets you educate your children the way that you'd like. 
Take It One Day at a Time
For us, I most miss The Mystery of History, and we still haven't finished Volume II. (We were so close.) We have Volume III sitting on the shelf, waiting. I want to add first, and I want to make sure that we do some things to keep it fun and interesting.
We will spend a week or two adding history before adding in anything else. The accomplishment of finishing that text and moving on will also help motivate us to keep adding things in and help us feel like we are getting somewhere.
One of the many things I have learned on this homeschool journey is that the state of things is in constant flux. First there were babies, and then there were toddlers. Now there are teens and tweens and pastoral duties. Our homeschool normal has changed so many times over the years. Sometimes I can roll with the changes, and sometimes they throw me, like a bucking horse. 
I like this quote from Marie Curie: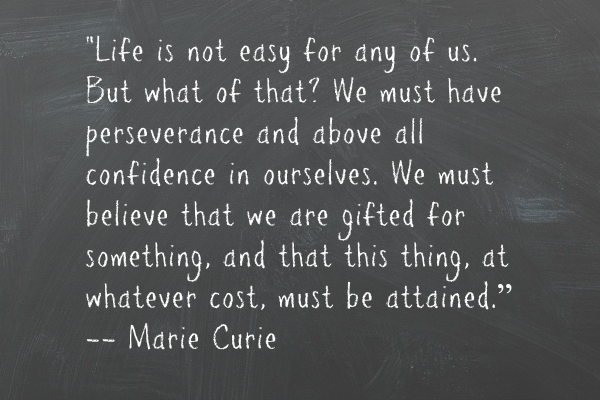 Homeschool mom, you must have perseverance. Trust that you have been gifted with the opportunity and resources to finish this homeschool journey. 
So what do you do when you feel like you've fallen off the homeschool horse? You climb back up there. You walk around and get used to the saddle and the gait again. You work up to a trot before moving on to a good cantering pace. You get back on that horse. 
Photo Credit: Five Furlongs via Compfight cc