Exploring History with History Quests
Heather Woodie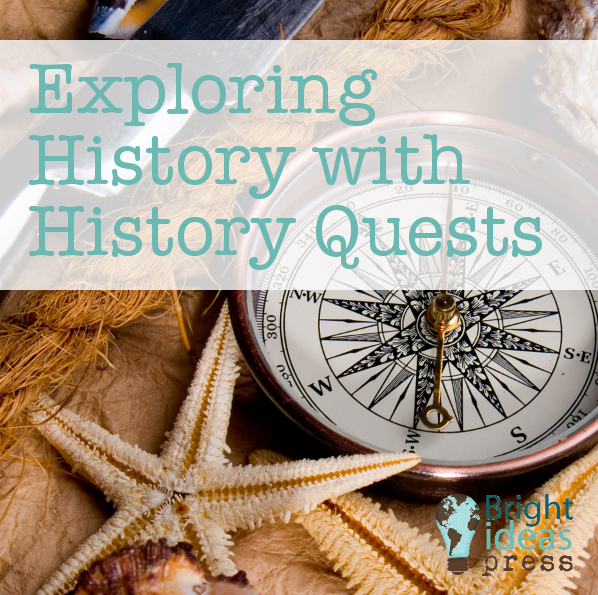 Allowing your students to explore history on their own is a fun way to give them ownership of their studies within the curriculum you are using. Today's post is all about Exploring History with History Quests.
What is a History Quest?
A History Quest is a simple exploration activity in which your student chooses a topic and does some quick research. This year we are using All American History Volume II from Bright Ideas Press, and I chose to replace some of the "For Further Study" items in each chapter with a History Quest of my student's choosing. At first, I was interested in creating the Quests for my students to do, but my ninth grader suggested she research a topic and write them for me to use on my blog Blog, She Wrote. What a challenge!
Topic Categories for History Quests
The topics can come from your history studies to discover more about a concept regardless of what curriculum you are using. The idea is to be pick something relevant related to the time period you are studying. Students can learn more about:
a person of interest
popular culture of the time
history of a national landmark
the story of a local monument
fashion of the time
the life of an author who lived and wrote at that time
the story behind major political events
towns in which important events took place
a book written about the time — fiction or non-fiction
historical places- could be national historical parks, homesteads, whole towns, etc
foods
medicinal practices
art and artists
music and musicians
current events
The list is endless! Find out what your student thinks would be interesting to focus on, and go from there.
Benefits of Exploring History with History Quests
Engaging in history with a History Quest takes extra time and doesn't exactly follow a curriculum. Why take the time?
Gives your student ownership in his/her studies by allowing them to choose topics of interest
Can replace less meaningful parts of an existing curriculum
Customizes a curriculum to the student
Provides an opportunity to make time for and learn more about current events
Allows your student to practice research skills
Lets students work together if they choose
Can let students studying together work on something all their own
History Quests at Blog, She Wrote
History Quests are a great way to customize your history studies. My ninth grader has been making history quests regularly (though I am behind in publishing them). Here are a few examples:
The Anaconda Plan — Learn about this historic war strategy
Around the World in 1862 — This gave my daughter a break from the topics of war in America at the time. What else was going on in 1862?
Civil War Uniforms — Learn about uniforms on both sides of the war and a little about how to make your own
Join us for a History Quest, either by making your own or following along with ours. Taking the time to learn about something your student finds relevant to the curriculum is a great step in achieving educational independence. Where will your student's next history adventure take her?