Using the Senses to Teach Homeschool History
Amber Oliver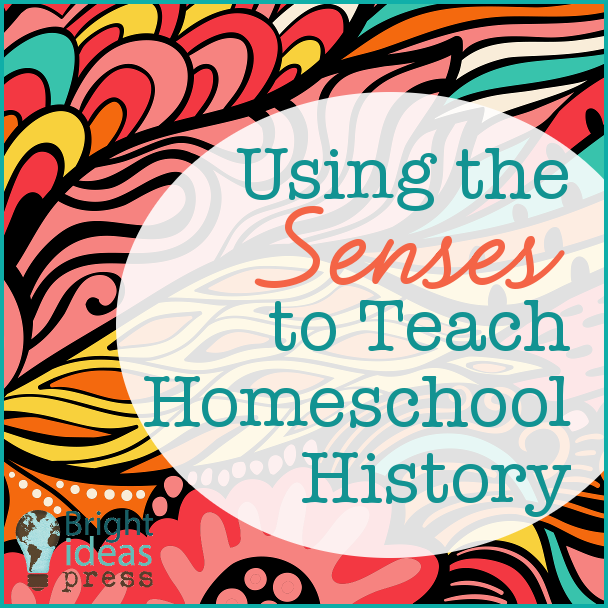 Do your children love history or do they wonder why you even need to study all of this stuff?
I never enjoyed history as a child. It's not that I didn't have many good history teachers or that they didn't try to help me. I suspect perhaps you can't fully appreciate the study of history until you have reached a certain level of maturity in life anyway. But also, it's the presentation the presentation makes a big difference.
The history classes that I remember enjoying the most were taught by teachers who did their best to teach it as one, big, connected story.
History, when presented as a collection of facts, dates, names and place to remember, can quickly become boring.
For children, there are two ways to make history more enjoyable than a simple study of facts. First, you can present history as an interconnected web of story lines and study how they all tie together. That's one reason we love The Mystery of History so much! And then, as you study history, you can work to appeal to their different senses. Listening to history alone isn't nearly as enjoyable as seeing, tasting, and doing it.
History for the Senses
How does one involve the senses when what you are studying what happened so long ago in the past? Fortunately, we have many good resources available to us today. Here are a few of our favorites.
History for the Ears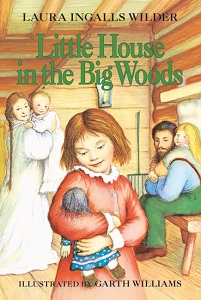 Read-Alouds: We love taking lists of suggested books to the library to hunt down and check out. Some of our favorites are The Little House series, The Courage of Sarah Noble, The Stories of Robin Hood (Heritage History), and The Hiding Place.  We've read books about early America, Greek myths, and Ancient Japan. My oldest has also enjoyed reading the American Girl series, "History Mysteries" on her own.
Audiobooks: You can find a very large selection of free history related audiobooks (and more!) online at Books Should Be Free.
History for the Eyes
Movies & Documentaries: Liberty's Kids, Drive Through History, and America: The Story of Us are three good ones.  Netflix has numerous interesting historical documentaries. We've watched documentaries about Egypt, the pyramids, various Pharoahs, Pompeii, ancient Rome, ancient China, Lewis and Clark, Jamestown, and various presidents.
Pictures: Historical books like the ones from DK are rich with pictures of real artifacts and places. We also like to search Google Images and YouTube videos for visual references also.
History for the Tastebuds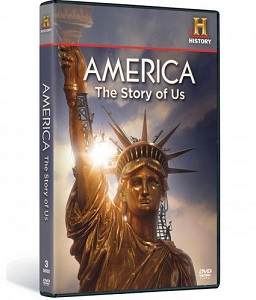 Historical or Geographical foods: A quick search of the Internet will yield a variety of recipes for different geographical areas or time periods like this Epicurious "tour" of the world through 80 dishes or this apple stack cake (similar to the one made in Little House in the Big Woods). But if you're going through The Mystery of History, Volume II, then dive into the accompanying cookbook for a taste of history as you do your lessons each week.
History for the Hands
Folderbooks: Many hands-on learners enjoy making folderbooks. The cutting, the folding, the gluing—all important motor skills —are used to create a good lapbook. There are several sources for ready-to-make lapbooks across the internet. If you're using The Mystery of History, there's an accompanying folderbook download that requires very little creative effort on your part.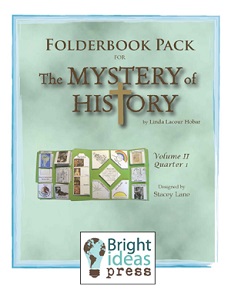 Craft & Art Projects: If your hands-on learners are more into the arts and crafts, there are many creative ways to make history fun and interesting. We have used The Mystery of History coloring pages (and printed additional coloring pages from the internet). We have drawn or painted pictures that corresponded to our lesson. You can build with LEGOs, playdough, or even MineCraft!  One of my girls has been creating a museum of sorts in MineCraft where she creates an exhibit for the lesson we read. There's also a supplemental craft pack for The Mystery of History if you need more crafts.
History for the Doers
Reenactment: Sometimes after a lesson we decide to dress up or reenact what we studied. Often times, I find my son recreating the lesson on his own:
creating a paper Vesuvius and reenacting the destruction of a miniature Pompeii
dressing up as a knight and marching off on a crusade
building a castle/fort/palace under the dining room table and disappearing in his own little world
Too often I'm tempted to say, "Not right now, let's get back to work." but I have remind myself that it's the untidy activities like role play that make history fun for my active little boy. Without the history play, the history lesson is much less tolerable.
Field Trips: The number and kind of field trips available to you in your area may be limited, but field trips can be a good way to get out and experience something firsthand. Whether you're visiting a sword maker or a living museum such as Old Sturbridge Village, field trips can be very fun. If you're like me and field trip opportunities are limited, you may be surprised to find the large number of virtual field trips now found online (though that may appeal more to your visual learners than your go-ers and do-ers).
Bring History To Life
I'm too often guilty of reading a history lesson and then moving on to the next thing. Over time, I have noticed that the pieces of history my children remember the best come from times when we read stories, looked up pictures, watched videos, and did projects. It's no surprise.
Not only does involving the senses help children learn and retain information better but you also remember things better when you enjoyed them. Bring history up off the pages and out into life with activities your children will enjoy. You may find that you all begin to enjoy history class even more than before.