Reflecting on Your Homeschool in the New Year
Leah Courtney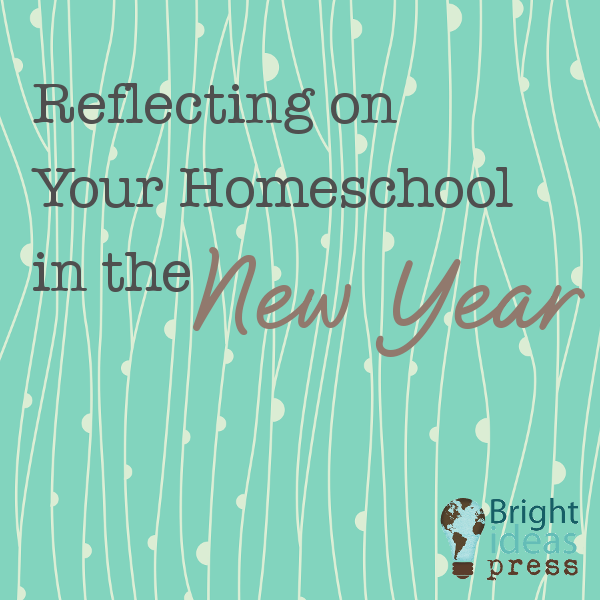 I love January. Despite the cold and rainy weather and the sickness that seem so prevalent in the winter air, I love the new year. It's a time to stop and reflect on what's been good and not so good through the last year.
It's a time to make changes, to start fresh. It's a clean slate.
I love to take time to evaluate my homeschool in January by looking at what's been working and what hasn't. And I love to plan for the new year. Here are some things to think on as you reflect on your homeschool in this new year.
What do you love?
Is there anything that has been particularly great in your homeschool this past year? Think about curricula, routines, schedules, and habits. Are there any that stand out as being particularly successful?
If you know that there are things that have helped your homeschool run well this past year, make sure that you have plans in place to continue those things in the new year.
What do you really dislike?
Is there something you've been doing because you feel as if you have to but you just really don't like doing? Is there something in your schedule that just isn't working —a class or co-op, an extracurricular activity? Is there any curricula that just doesn't seem to be a good fit?
The new year is a good time to make changes and eliminate those things that are not working. Don't stick with something just because your friend loves it and her kids thrive with it. Use this time to reevaluate and drop those activities that have your family running ragged and just aren't worth it.
Don't be afraid to make changes in your curricula either. If something doesn't work for your family, it's okay to change it or discard it all together.
What do the kids love or hate?
Do your children have strong feelings about a curricula they're doing or an activity they are doing? Whether you are a completely delight-directed learning family or a strictly textbook/workbook family, you can evaluate your homeschooling through the eyes of your child.
Maybe you can't or don't want to get rid of something just because your child dislikes it. But perhaps you can make changes that make it better. Modify the way your child has to complete the lesson. Assign less work per day. Don't do every problem. Spread the work out over several time periods instead of one long block during the day.
What does your spouse notice?
Typically dads aren't home for most of the homeschool day. But I enjoy getting my husband's opinion about how things are going because he is more removed and thus a bit more objective. If I've put lots of time into a curriculum or activity, I have a hard time making changes or discarding it. But because he has a more objective opinion, he can make helpful suggestions.
He noticesbad attitudes and knows whether something is working. He can see if I'm too tired and the kids are grumpy from being out all day, and he can suggest that we cut the number of outside activities.
What progress are you making toward your long term goals?
Do you have high school students who are aiming for college? Evaluate how well they're doing for the year. Perhaps there are classes they need to change. Perhaps they need to improve study skills or work on preparing for the SAT. Do you have a goal to finish a certain book or curriculum? Are you on track to meet that goal and finish by the end of the year? Now is the time to shore up anywhere your teens may be lagging behind.
For your younger learners, it's still important to reevaluate the calendar and decide when we are on track to finish our regular school days and whether or not we can take any time off in the spring. I also like to see where we are in the curriculum to decide whether or not I need to pick up the pace or slow down to finish when we need to.
Taking time to reflect on your homeschooling at the beginning of the new year can be refreshing and can give you a new burst of energy to carry you through the long winter days. Prayerfully considering what's working and not can help you to make the changes your family needs.