Positively Emotional Homeschoolers
Suzanne Broadhurst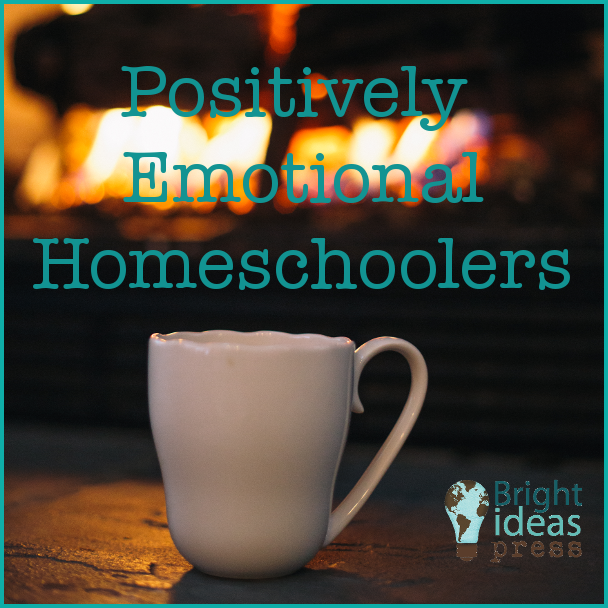 Our seasons of parenting will be sprinkled with a variety of emotions, not all of them palatable at first bite, but each necessary to the maturing process.
We don't want to rid ourselves of emotions as home educators; we want to learn to manage our emotions, even the positive ones.
Glee: A Positive Emotion with a Dangerous Left Hook
We all know chronic, negative emotions can be detrimental to our mental health and that of our loved ones. It can be hard to believe, however, that even positive emotions can have negative influences.
Let's look at glee. It's such a happy word, whatever could be negative about glee?
Glee: delight, elation, exhilaration, exuberance, joy, pleasure, verve, blitheness, cheerfulness
We can get a thrill (a blast, a bang, a flush, a twitter) out of visiting a thesaurus, but if we don't reign in that puppy (doggie, canine, pooch, mutt), we can get distracted and forget why we were looking up the word to begin with.
Oh dear, in the attempt to make my point, I visited the thesaurus and may have made my point.
Such is the power of glee.
How Can Glee Lead Us Astray?
Have you ever been distracted by something you love (like a thesaurus) and let the necessary bits of life float by unnoticed?  Of course, we all have.
Our children have noticed, too.
Our glee over the latest this or the latest that can offer us many, many moments of positive emotions. But are we trading relationships for a cyber-buzz? A sports-buzz? A work-buzz?
Are we letting moments of merriment cost a lifetime of relational mirth?
What to Do With Glee
What can we do with our delectation, our joy, our verve?
Ask Glee a Few Questions
First, we can make sure we put it to good use. Talk to your glee, and ask it a few questions:
Are you here to give me a needed break from a big project? Or, are you here to distract me from my responsibilities?
Are you my friend, stopping by for a good laugh? Or, are you asking me to trade a long-term love for a short-term like?
Are you a positive emotion, staying the positive course? Or are you clenching your fist, readying yourself for an unexpected left hook to my emotional jaw?
Once we have our answers, we can keep glee in its proper place. We can keep the positive emotion on a positive path.
Enjoy Glee
My mom has often said to me, "Rest easy," knowing that sometimes rest is anything but easy. In the same spirit, "Enjoy glee!" When we truly enjoy glee, we can share with our children what makes our own hearts sparkle. And they will still be willing to listen.
Little Moments Do Add Up
Children will replay — and replay and replay — the little moments.
They will remember the moments we spent time with them, talking with them, listening to them, playing with them, learning with them, sharing life with them. Enjoying moments of glee with them.
They also remember the less positive moments when we chose to value something else.
Of course, it's good that parents have interests beyond their children, but we don't want our glee to carry us too far from theirs, at least for the time being.
The day will come when they will be grown and you will have plenty of time for yourselves. And won't it be lovely to have someone to enjoy your glee with?